Website design for commercial real estate firms
Why great web design gives your CRE firm an edge
To effectively compete in the highly competitive commercial real estate market, your firm must differentiate itself and attract new business with ease. A secure, polished website can be your most powerful tool to demonstrate your expertise in the industry and convince potential clients that you are the right choice for their office, retail, industrial, or hospitality property needs.
With so many choices of CRE realtors out there, make it clear to potential clients why you're the best fit. A strong online presence, which is both visually appealing and easy to find, can significantly impact your revenue and growth potential. Launching a website designed to convert visitors into clients can help you showcase your unique value and stand out in a highly competitive market. For CRE firms, B12 is the all-in-one platform that enables you to look professional and efficiently serve clients online.
View our portfolio of the best commercial real estate websites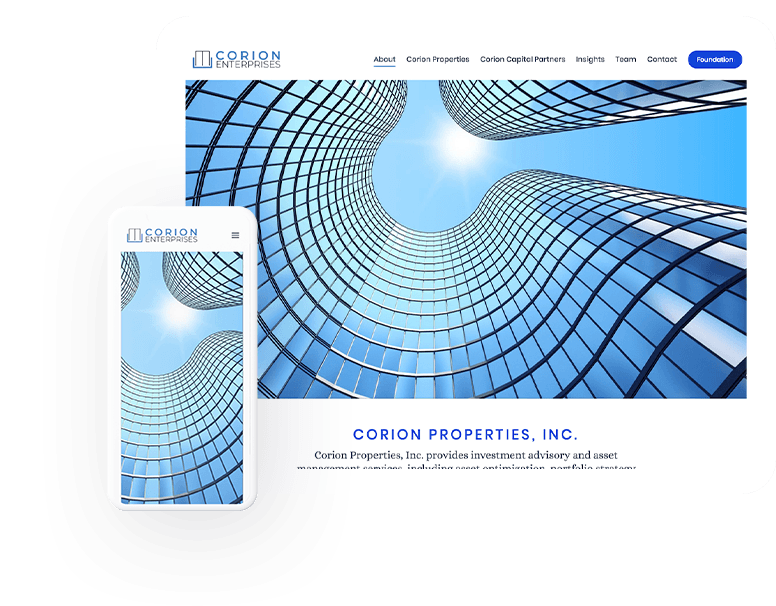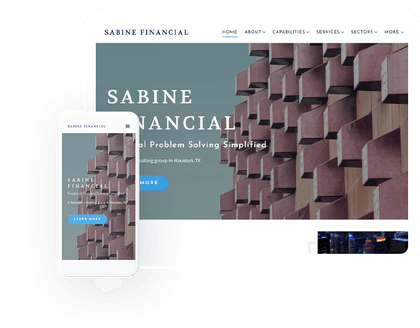 Essential ingredients of a successful CRE website
Conveys expertise
You play a critical role in helping clients navigate the complex world of commercial real estate for their business. Your firm acts as trusted advisors, assisting clients with finding properties that meet their specific needs, whether they are looking to buy, lease, or sell. Your website, like your firm, should help visitors find answers to their most pressing questions, view potential properties, and communicate with you effectively.
Streamlines client interactions
Effortlessly maintain relationships with all of your firm's contacts and simplify their experience on your website. From quick-loading web pages to the option to schedule site viewings online, every element of your site should help clients conveniently accomplish what they want and motivate them to refer you.
Attracts new clients
Unlike residential real estate, commercial real estate deals with long closing cycles. To ensure there are always potential clients learning about your firm, your website and digital marketing tactics need to be working hard for you. This is a major reason to ensure your website is optimized for organic search and to work with a B12 SEO specialist, so it ranks well on search engines and gets discovered by prospective clients.
Simplifies your firm's operations
Your firm's website has the potential to centralize all areas of your business and manage them online, including your client list, asset management, appointment history, and lease administration. Streamlining your client journey and cutting out the need for third-party tools helps you spend less time on administrative tasks and more time serving clients.
A strategic approach to commercial real estate websites
Your business started from a love of real estate, not website design. Leave that to us.
B12's team and AI-powered technology do the heavy lifting to bring you online and attract more clients with less effort. We help you publish your professional site in 30 days or less, complete with tools that add efficiency to your business, so your time and energy go toward solving problems for clients.
B12 enables commercial real estate firms to launch modern websites with tools to help attract, win, and serve clients online. We set up your firm with everything you need to deliver excellent services that make your clients' lives easier and heighten your presence in the CRE industry.
1
Receive an AI draft
Creating a website can be a time-consuming distraction from supporting your clients. With B12, the process is streamlined and accelerated through the use of AI technology. Simply answer a few questions about your business, and our platform will generate a personalized website in under 60 seconds. This quick and easy solution allows you to focus on your clients while ensuring a strong online presence for your business.
2
Work with experts in real estate web design
With a quality starting point for design and web copy, B12 experts then work with you to customize and launch your mobile-friendly, fully branded website. It looks credible, is search-optimized, and is built for smooth client interactions. B12's knowledgeable designers, copywriters, and SEO specialists are on hand to update your site any time — or you can do it yourself with our easy website editor.
3
Boost conversion through online appointments
Website pop-ups, banners, and strategic calls to action boost your conversion rate, while online site portfolios and site viewing schedules let visitors get to work with you quickly from your site. Automated reminders help you eliminate appointment no-shows and make the most of your team's time.
4
Launch your CRE firm's new website
The sooner your new site launches, the sooner you're discoverable to potential businesses looking for the exact properties in your portfolio. Once your site is published, leverage powerful tools like appointment scheduling, email marketing, and client intake forms to provide clients with the experience they expect.
What are the best practices for building high-performance commercial real estate websites?
These crucial features enable you to build a modern, user-friendly commercial real estate website.
Rapid page load time
Mobile-friendly design
Blog posts that speak directly to your ideal audience
Testimonials from delighted clients
An attention-grabbing front page that captures user interest
Forms to collect more leads
A page, section, or detailed description of each of your services
On-page and off-page SEO
CTA buttons on high-traffic pages
Conversion-oriented design elements and tools
Intuitive navigation and user experience
Quality website design can help you grow your commercial real estate business fast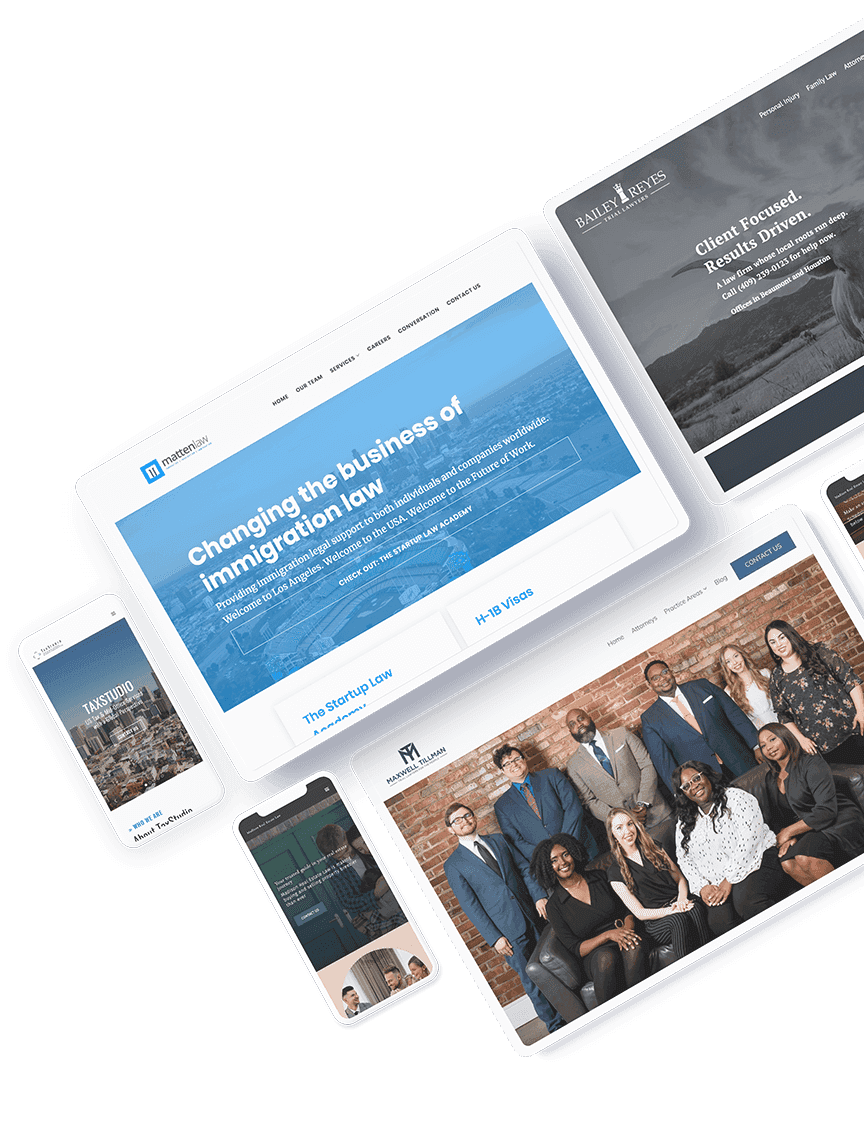 What separates a remarkable commercial real estate website from the rest?
The most effective CRE websites are equally user-friendly for visitors and powerful in driving growth for your firm.
Your firm's website should effortlessly collect information from leads via forms and signups, centralize everything in a contact manager, automatically send follow-ups (e.g., welcome emails and appointment reminders), and include tools to more easily convert them to new clients.
When looking for possible locations for their business, businesses start by searching online, so your firm can be more competitive by making that process straightforward and quick. An easy way to set your firm apart from others and improve client relationships is to remove any friction from contacting you, submitting documents, and paying you directly through your website.
For more inspiration and examples of great commercial real estate web design, look through B12's best CRE firm websites.
Browse commercial real estate websites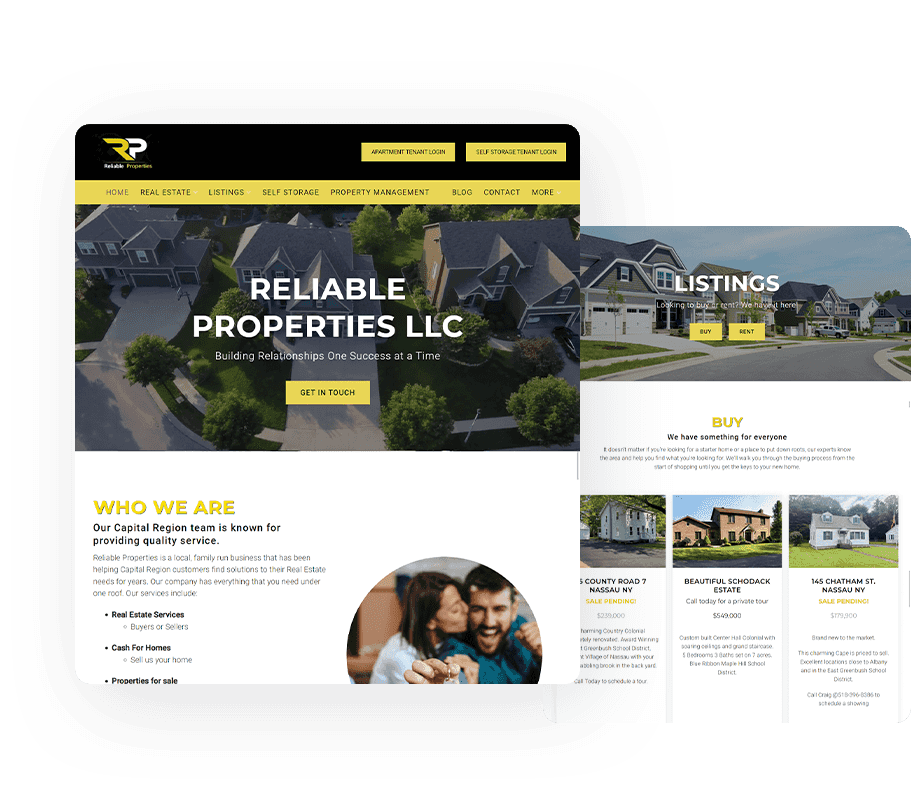 Building websites for independent CRE brokers and small firms since 2016
B12 specializes in building custom websites for CRE firms that meet industry best practices and make a great first impression on every potential client.
Our team handles your entire project from end to end, while still giving you control over design preferences and the ability to make quick web page updates using our intuitive editor. The B12 platform was created specifically for service businesses, and our experts have built hundreds of real estate websites that emphasize each company's unique expertise and services, with design, marketing, and conversion features that prompt website visitors to take the next step.
B12 is proud to receive 4+ stars on the top review sites, including: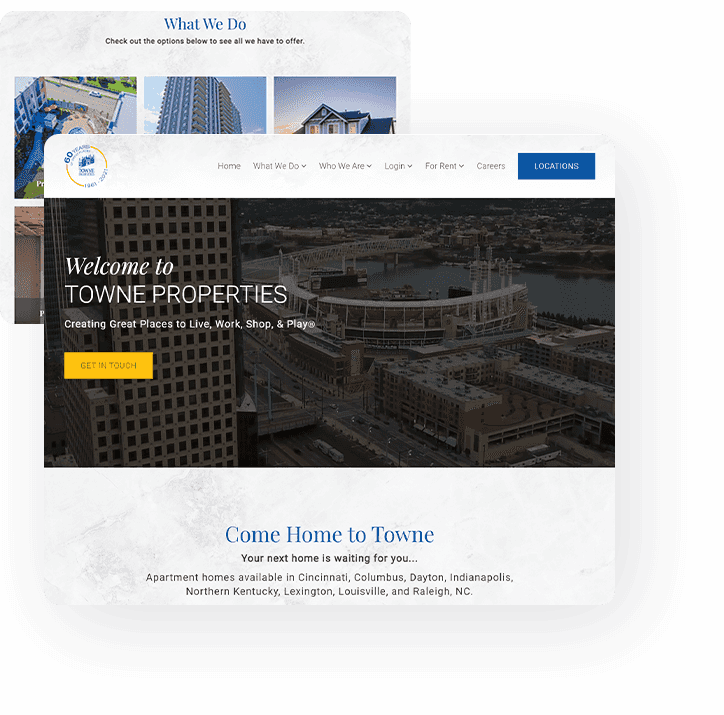 What do other service businesses think of B12's website design?
Leroy Maxwell, Jr.
Founder and Attorney, Maxwell Tillman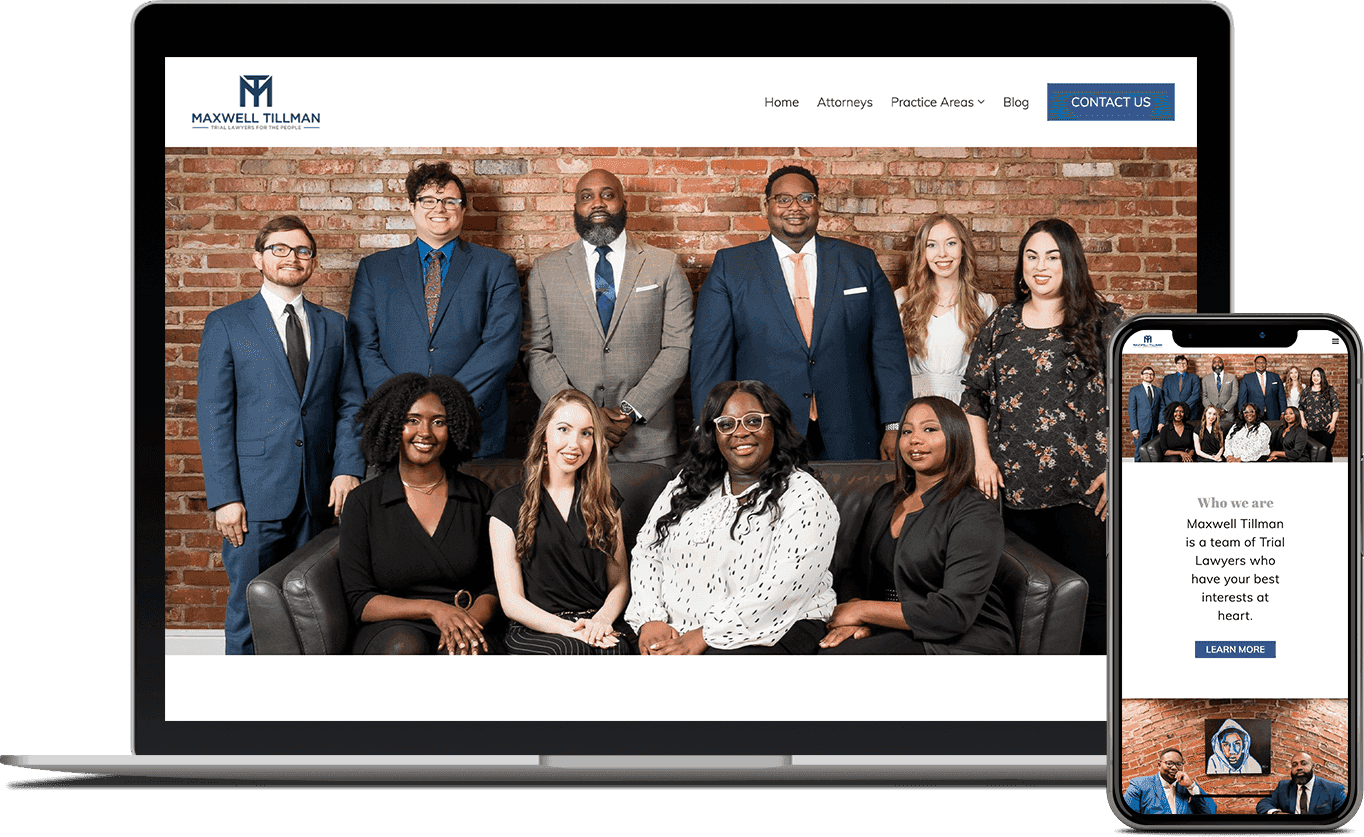 I would recommend B12 to any company that wants a team to manage and grow their website while they focus on growing the business. With B12, founders can be rest assured that their website is in good hands and, more importantly, prove its value and ROI.
Leroy Maxwell, Jr.
Founder and Attorney, Maxwell Tillman
Read Leroy Maxwell, Jr.'s story
Barbara Bartelsmeyer
Partner / COO, Action Logistix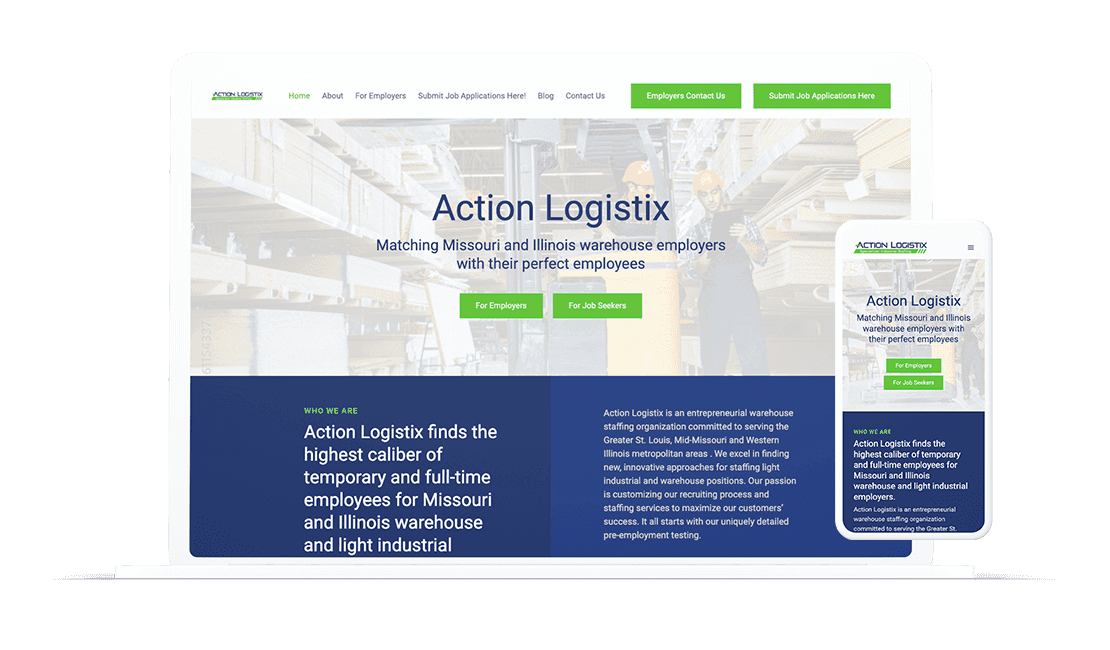 I can make [website edits] myself, and it's as simple as working in a Word document. If I need more help, I'll email the B12 team and within 24 hours, boom, it's done.
Barbara Bartelsmeyer
Partner / COO, Action Logistix
Read Barbara Bartelsmeyer's story
Brett Packard
Head of Operations, TaxStudio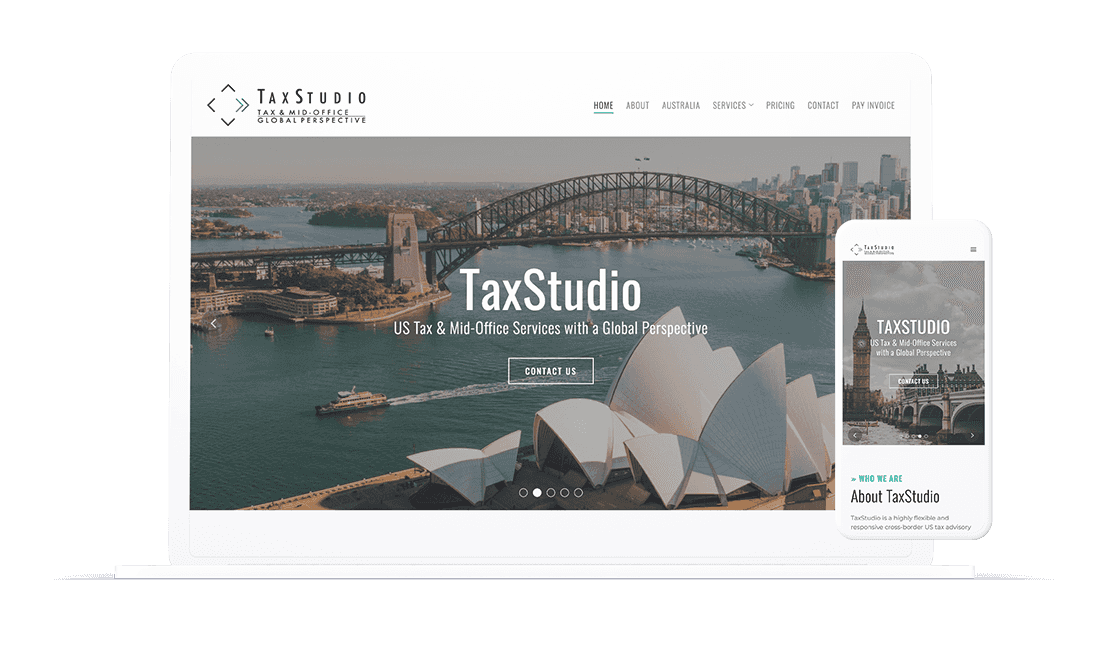 We get a lot of compliments on our website. Many potential clients are very impressed by our site, and often say it looks expensive.
Brett Packard
Head of Operations, TaxStudio
Read Brett Packard's story
Frequently asked questions from commercial real estate firms
The cost of building a website through DIY website builders can vary depending on the platform you choose and the features you need. The DIY route of website design could cost you as little as $20/month; however, you would miss out on having the guidance, support, and tools needed to truly look professional online. In contrast, paying a web design agency can cost tens of thousands of dollars and slow down the feedback and launch process, sometimes taking months to complete.
A solution like B12 is the perfect combination of launching fast (30 days or less), having on-platform support, and the ability to edit your site yourself. B12 specializes in building credible online presences for architecture firms and other service providers, including built-in tools to attract, win, and serve clients online — at a fraction of the price that agencies charge. You waste less time struggling with your online presence than you would with a completely DIY platform. You also get set up to see better ROI, thanks to tools like online scheduling and payments. Check out our pricing here.
A CRE website can help your business generate leads and attract new clients. Your website can act as a lead-generating Swiss army knife: once visitors make it onto your site you can leverage valuable, downloadable content to collect lead information for your sales funnel. You can also employ enticing calls-to-action to encourage visitors to contact you for more information or to schedule a consultation. By capturing visitors' contact information, they can build a database of potential clients to nurture over time. And don't forget about email marketing! Email marketing can help CRE firms stay top-of-mind with their contacts, build trust, and generate more business by nurturing leads, promoting listings, and encouraging referrals. There are also several online CRE directories that will increase your exposure to possible clients. For example, LoopNet features listings of commercial properties for sale and lease across the United States, including office spaces, industrial properties, retail spaces, and more.
A commercial real estate website should look professional, be easy to navigate (especially on mobile devices), and be visually appealing. A CRE business website should be fully branded with a clear brand identity, that includes consistent use of the company logo, color scheme, and typography. Strong and consistent branding helps to establish trust and recognition with existing and potential clients. A commercial real estate website should use high-quality photos and videos to showcase properties and make them look as appealing as possible to potential buyers or tenants. A CRE website should have a clear and intuitive navigation menu to ensure site visitors find the information they need quickly.
The content you post on your commercial real estate website should be informative, engaging, and valuable to your audience. By providing high-quality content, you can build trust with potential clients and establish yourself as a leader in the industry.
Helpful information to engage site visitors and existing clients is key when planning out what to include on your CRE website. If you have been on any social media site lately, you'll see that video content is everywhere and for a good reason: it's highly engaging! Create virtual video tours of your properties to give potential tenants or buyers a more immersive experience. This can help them get a better sense of the space and visualize themselves in it, making it much easier to sell. This will also reduce the time your team spends showing properties to clients that do not satisfy their needs for a commercial space.
Keeping a blog regularly updated is also a great strategy. Creating blog posts on various topics related to commercial real estate will keep your business in mind with existing clients and be seen as an industry thought leader for potential clients. This could include tips for property owners, market updates, industry news, case studies from successful clients, and new property listings. Blogging is a great way to establish yourself as an authority in your field and drive traffic to your website. Downloadable content hosted on your blog, such as a guide for first-time commercial real estate buyers or renters, is also a great way to show your expertise and bring in more leads to your sales funnel.
Yes! A website is a valuable tool for any commercial real estate business looking to establish a strong online presence, generate leads, showcase their properties and expertise, and build credibility with potential clients.
In today's digital age, having an online presence is essential for any business especially when competition is as high as it is in real estate. A CRE website provides a platform for your business to showcase your services, properties, and unique expertise. It allows potential clients to learn about your services, make informed decisions, and get to know the team they'll work with when entrusting your firm with their business.
Think of your business's website as one of your most important marketing tools. Your CRE firm can use it to promote services and new listings, highlight your achievements and client success stories, and share relevant industry news and insights. Additionally, you can use search engine optimization (SEO) techniques to improve your website's visibility and attract more traffic.