Email Marketing
Send high-quality emails in minutes that engage contacts and sell your services, right from B12. Pre-written messages, on-brand templates, easy editing, and automated workflows make it simpler to foster your firm's relationships without requiring hours of your time.
Get started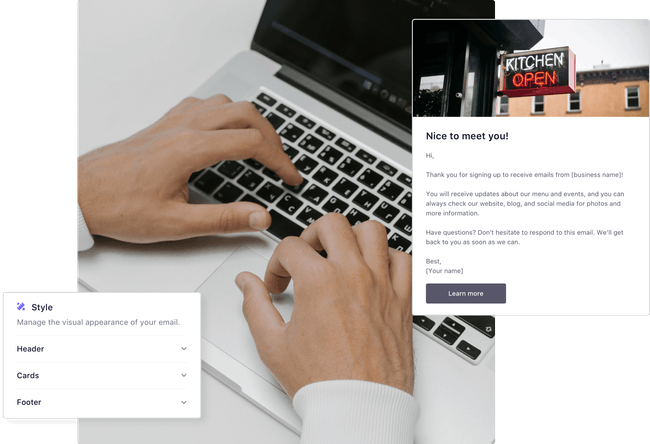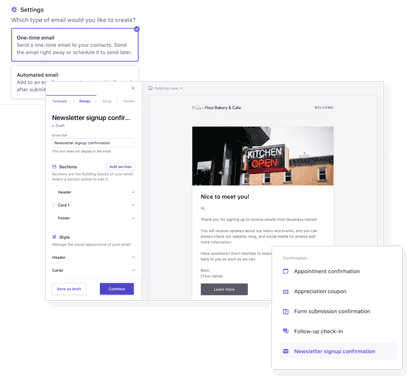 Engage your contacts in minutes
Send reminder, confirmation, and marketing emails to your contacts without leaving B12
Import or manually add your existing professional contacts, then add new prospects and clients any time
Choose from a collection of pre-written, occasion-specific email messages and make edits, or write your own from scratch
Emails are automatically designed to reflect your website's branding, colors, and fonts
Add images from your website or Unsplash and edit an email's design as much as you'd like
Set up automated emails when someone submits a form, schedules an appointment, or receives an email from you
View your email history with a specific contact in the Contact Manager
Tag email contacts individually or in bulk to remind yourself of their next steps or to follow up with them
Join thousands of professionals using B12 to power their business online
Barbara Bartelsmeyer
Partner / COO, Action Logistix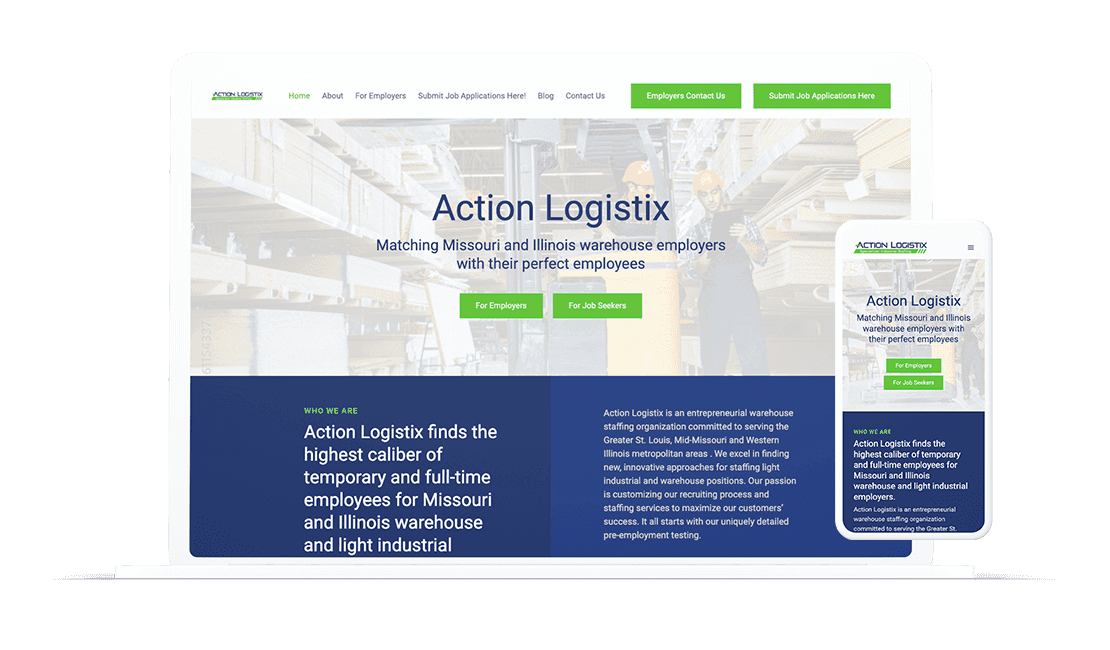 I can make [website edits] myself, and it's as simple as working in a Word document. If I need more help, I'll email the B12 team and within 24 hours, boom, it's done.
Barbara Bartelsmeyer
Partner / COO, Action Logistix
Read Barbara Bartelsmeyer's story
Jia Junaid
Founder, Atlas Law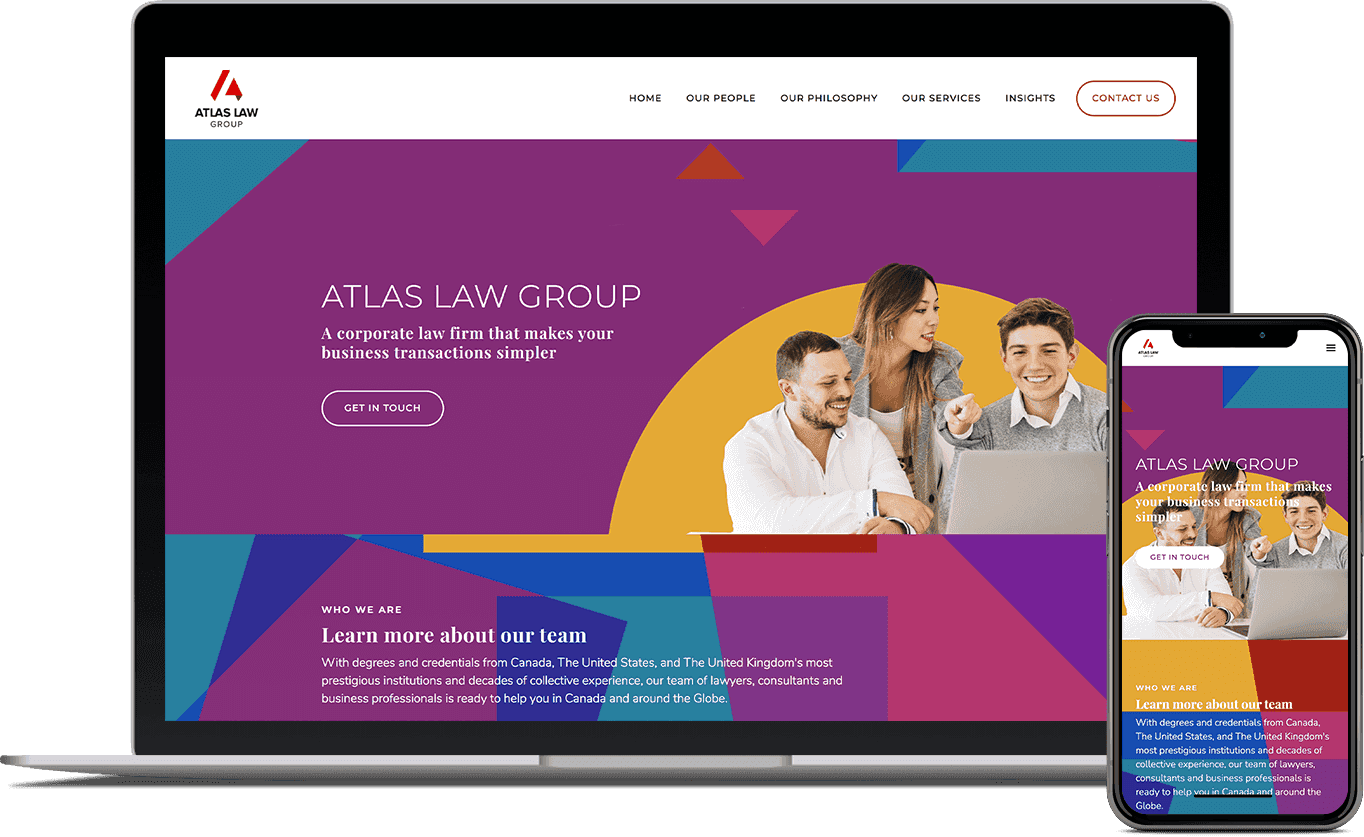 I love that B12 prompts me to update certain [website] features and add integrations like online scheduling to increase efficiency in my law firm. These recommendations are often things that I would have never considered but have proved to be incredibly useful.
Jia Junaid
Founder, Atlas Law
Read Jia Junaid's story
Anthony Bell
Founder and Managing Partner, The Bell Group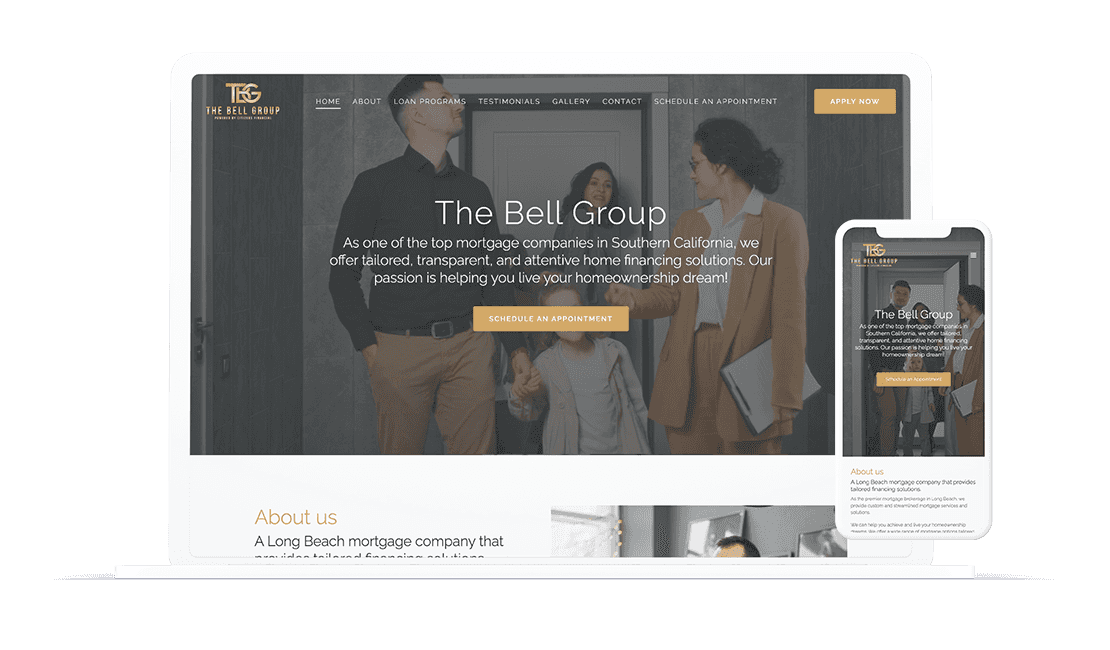 With B12, the quality is 10/10. I feel like I got the finished product of building a site from scratch, but it was way easier.
Anthony Bell
Founder and Managing Partner, The Bell Group
Read Anthony Bell's story
Heather Carnes
Founder, Envision HR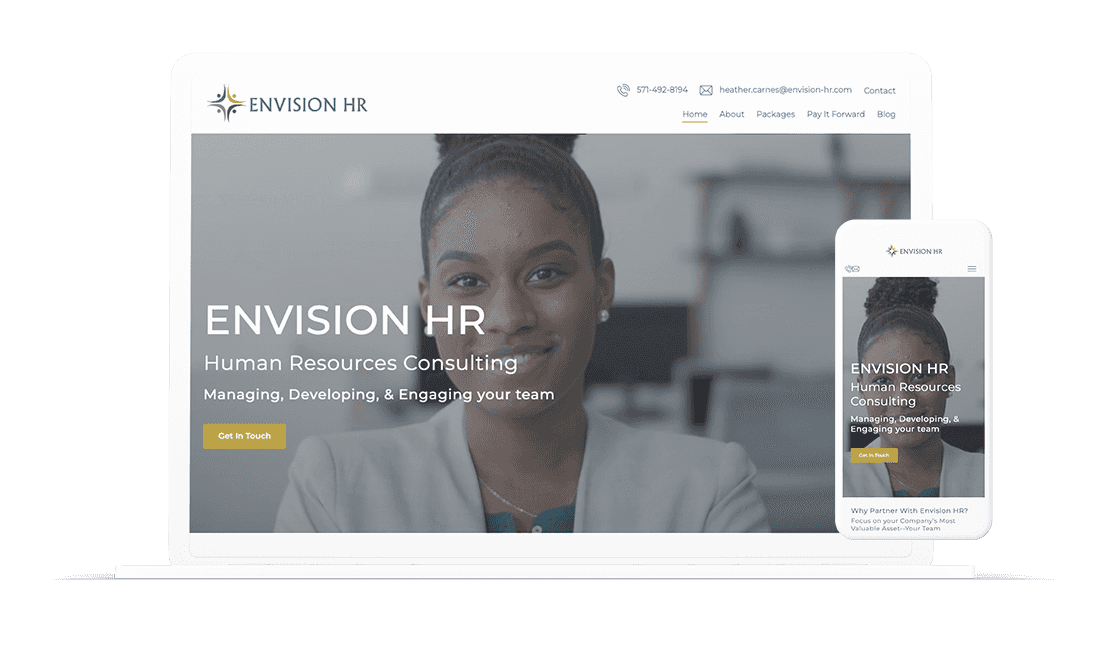 FAQ
Email Marketing allows you to reach your customers and prospects with built-in email features that integrate with your online presence. AI automatically generates emails to match your branding, with the option to use pre-written messages as a starting point to save time and ensure quality. You'll find Email Marketing in the B12 Editor under "Your business".
All email interactions with clients and prospects, as well as website form submissions, contact details, on-site chat messages, and intake notes are automatically stored and can be viewed in the Contact Manager.
The Contact Manager syncs with and can import contacts from Gmail, Office 365, Yahoo Mail, or by uploading a CSV file.
Yes, we strongly recommend it! Once you've finalized your email message and design, click "Send a test email". After receiving the test email to your account, make edits or send it off to contacts.
Email Marketing is part of our
Standard and Premium plans
. There are no limits on the number of emails you send or how many recipients you send emails to.
Browse all features
Our simple, powerful platform works especially well for businesses in these industries:
Streamline your business with one online solution
Your website, invoicing, contracts, payments, and more, all in one place. Try B12 today.