Reach, acquire, and retain clients online
Powerful tools seamlessly integrated into your website work together to let clients easily contact you, schedule appointments, fill out intake forms, sign documents, and submit payments in one place. See a free draft of your new site and preview our product suite, no credit card required.
Get started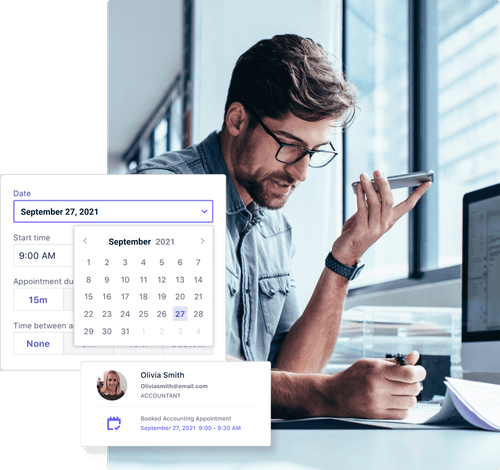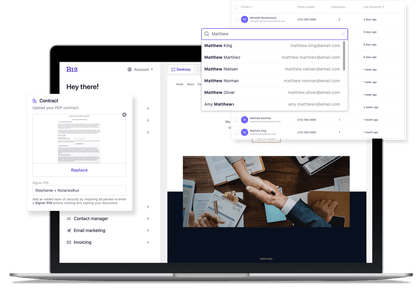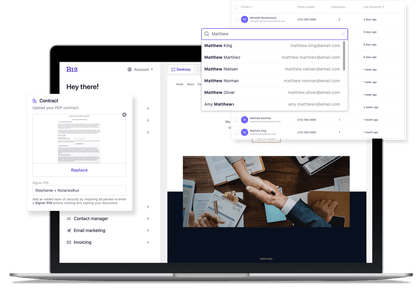 A single solution unlocks the best experience for you and your clients
Client Engagement offers you a centralized solution to build and foster client relationships online. No integration headaches and everything works together. One platform, one monthly payment.
From intake forms to recurring payments, every step of your clients' journey runs smoothly to help your business grow and improve online.
Benefits to your business
Communicate with clients and leads effortlessly in a centralized place
Reduce back-and-forth emails about scheduling, intake forms, and contracts
Keep your branding consistent across the client experience
Save time by automating administrative tasks
Focus on your business while B12 sets it all up for you
Everything works together, no integration headaches
Single payment for all of these services
Benefits to your clients
Enjoy a streamlined experience with a company's website, scheduling, forms, and payments in one place
Quickly share information to determine if a company's services meet your needs
Schedule appointments in seconds without delay or back-and-forth over email
Submit payments conveniently and securely
Finalize contracts remotely using electronic signatures
What's included in Client Engagement?
Each Client Engagement tool supports the smooth transition from website visitor to loyal, satisfied client, helping your business thrive without the usual growing pains.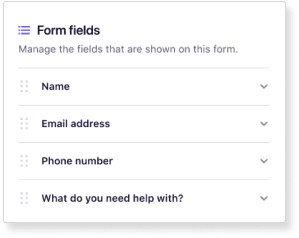 Client Intake Forms
Intake forms help you qualify prospects and use that information to streamline your client intake process. Whether you use one form for all prospects or detailed, service-specific questionnaires, B12 can set it up for you.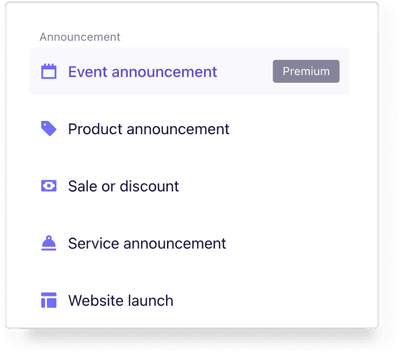 Email Marketing
Send professionally branded emails to your contacts in minutes to share news and announcements. Save time by starting with industry-specific email templates that always match your website.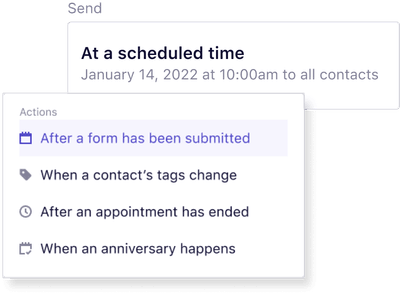 Email Automation
Too much time is wasted sending routine emails. B12 easily automates appointment notifications, payment reminders, form submission confirmations, and signed contract copies, reducing administrative daily tasks while keeping your prospects and clients informed.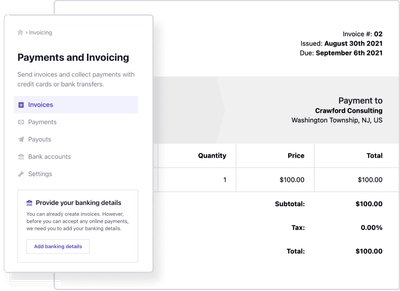 Online Payments and Invoicing
Send professional, branded invoices and get paid faster. Automatic payment reminders are sent to clients, increasing your on-time payments. It's convenient for them too — they can pay on your site via credit card, debit card, or ACH.
Online Scheduling
Let visitors schedule, reschedule, and cancel appointments directly on your website. Sync your business calendar, customize your availability, and create various appointment types with different durations.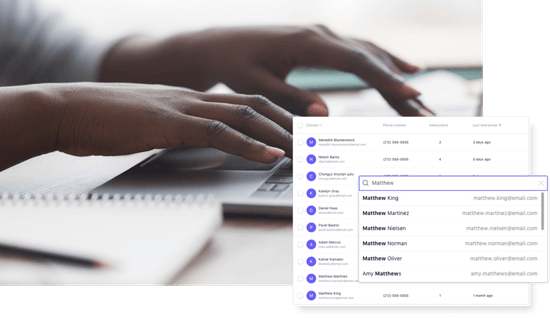 Contact Manager
Website visitor and intake form submissions are stored in your Contact Manager, making it a convenient way to organize your prospects and clients in a single place.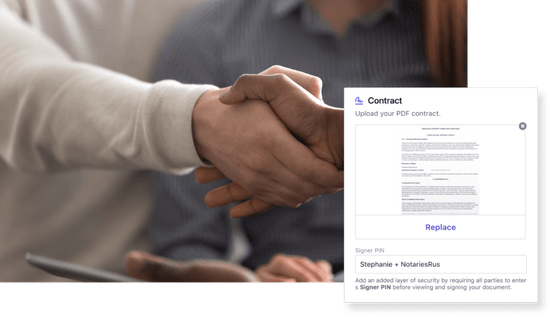 Contracts and eSignatures
Make signing contracts more efficient for you and clients by accepting electronic signatures. Upload a PDF, mark up the necessary fields, and send it to your client in only a few clicks. No more faxes, printers, or emails back and forth!
Join thousands of growing businesses that trust B12 with their online presence
Want to learn more about what B12 can do for your business? See what we've built for customers like you.
See our website gallery
Client-focused solutions tailored to your industry
Our simple, powerful platform works especially well for businesses in these industries:
Accountants
Connect with clients in need of your accounting services
Architects
Communicate with prospects who are hiring an architecture firm
Coaches
Effortlessly reach prospective coaching clients online
Commercial real estate
Engage potential buyers and sellers
Consultants
Strengthen relationships with your consulting clientele
Financial advisors
Acquire and retain clients looking for financial expertise
Insurance brokers
Nurture relationships with your insurance clients
Investment services
Engage with those interested in investment advice
Lawyers
Gain the ideal clients and cases for your practice
Mortgage brokers
Foster relationships with prospects seeking mortgage solutions
Professional services firms
Build and maintain strong business relationships with your clients
Join thousands of professionals using B12 to power their business online
Barbara Bartelsmeyer
Partner / COO, Action Logistix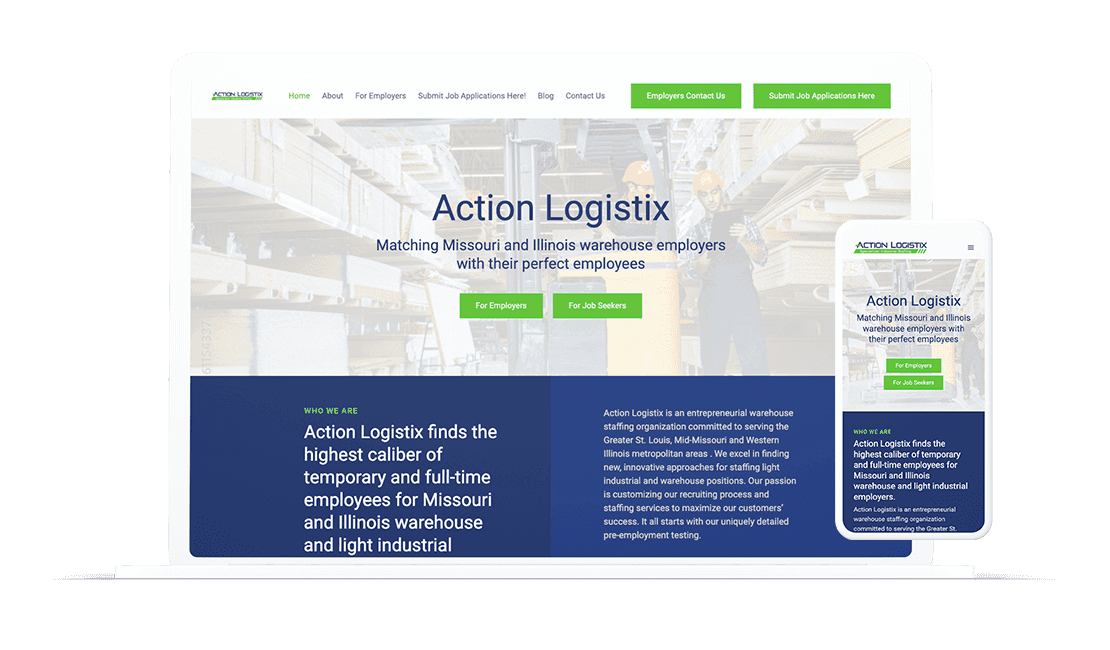 I can make [website edits] myself, and it's as simple as working in a Word document. If I need more help, I'll email the B12 team and within 24 hours, boom, it's done.
Barbara Bartelsmeyer
Partner / COO, Action Logistix
Read Barbara Bartelsmeyer's story
Jia Junaid
Founder, Atlas Law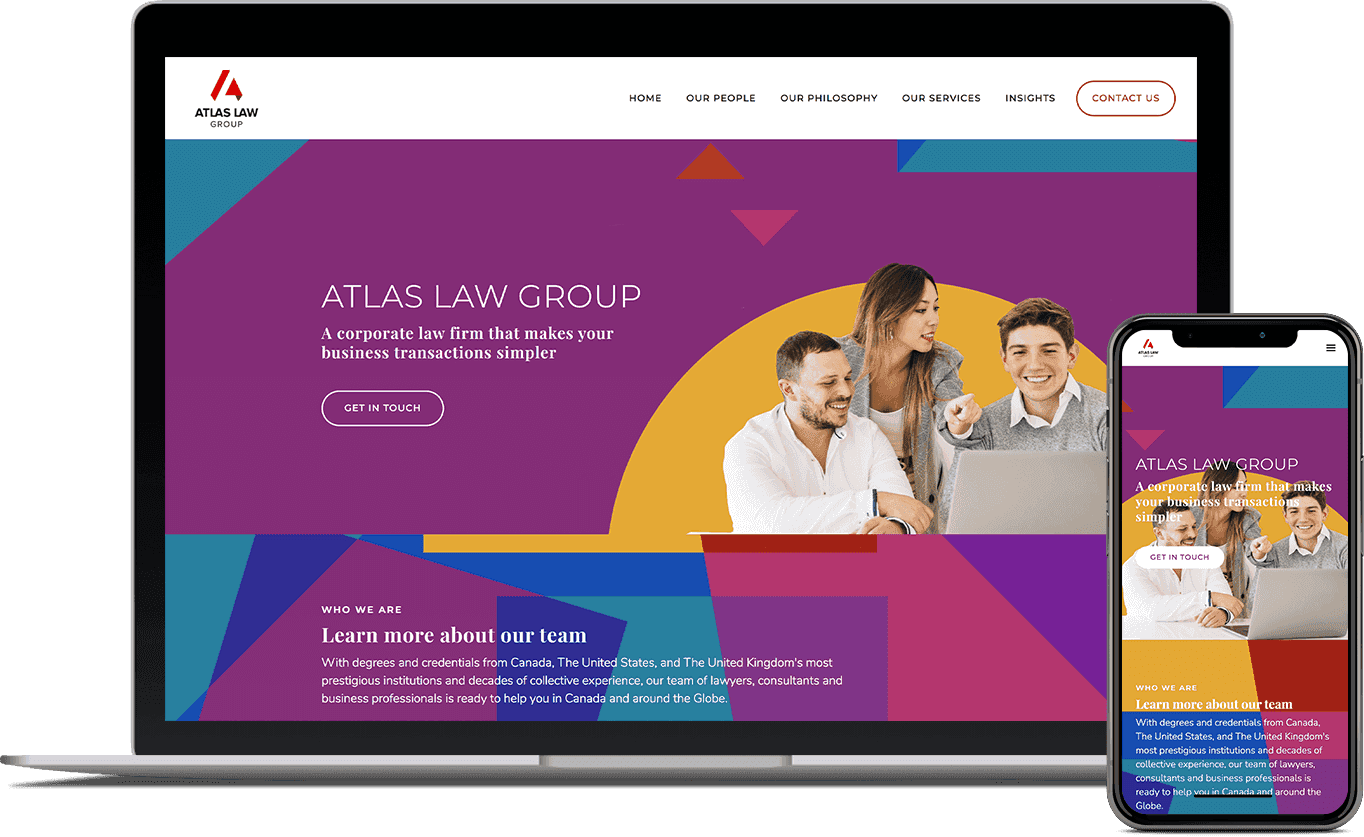 I love that B12 prompts me to update certain [website] features and add integrations like online scheduling to increase efficiency in my law firm. These recommendations are often things that I would have never considered but have proved to be incredibly useful.
Jia Junaid
Founder, Atlas Law
Read Jia Junaid's story
Anthony Bell
Founder and Managing Partner, The Bell Group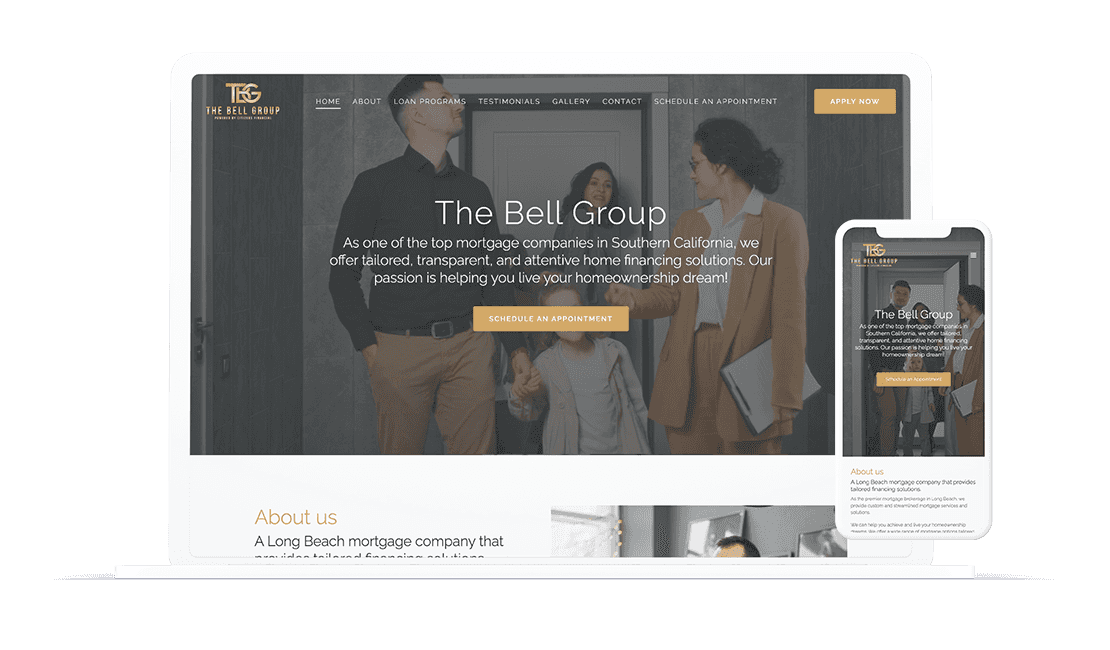 With B12, the quality is 10/10. I feel like I got the finished product of building a site from scratch, but it was way easier.
Anthony Bell
Founder and Managing Partner, The Bell Group
Read Anthony Bell's story
Heather Carnes
Founder, Envision HR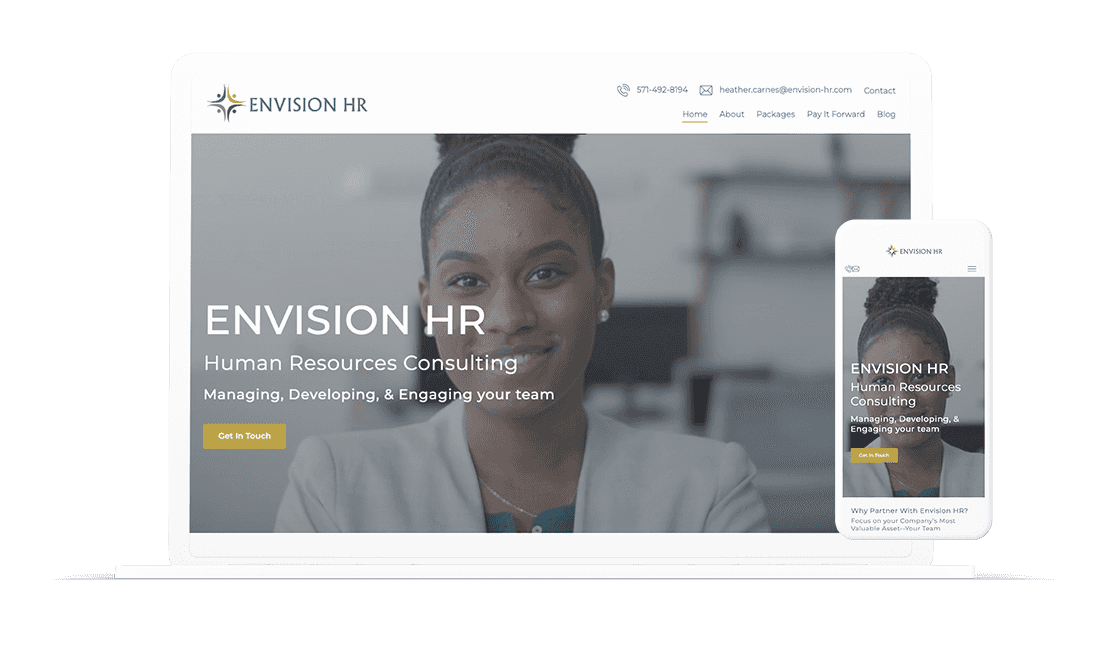 Streamline your business with one online solution
Your website, invoicing, contracts, payments, and more, all in one place. Try B12 today.