Professional websites for accountants
Web design that showcases your accounting expertise for real ROI
There are now more than 1.27 million accountants in the United States alone. So while many businesses and individuals need a CPA, they have plenty of options to choose from. Standing out in this highly competitive field starts with a mobile-friendly, optimized website that clearly communicates your value. That's just the beginning, though.
Your website has to do more than list your basic services. It must differentiate you from competitors and allow clients to work with you conveniently, remotely, and efficiently. This calls for powerful functionality built into your site, like client intake, contracts & eSignatures, online scheduling, payment processing, and more.
Whether you specialize in tax preparation, payroll, bookkeeping, or business valuation, it's time to launch a well-designed, user-friendly website that demonstrates your credibility, streamlines client engagement, and increases lead generation.
View our portfolio of accountant websites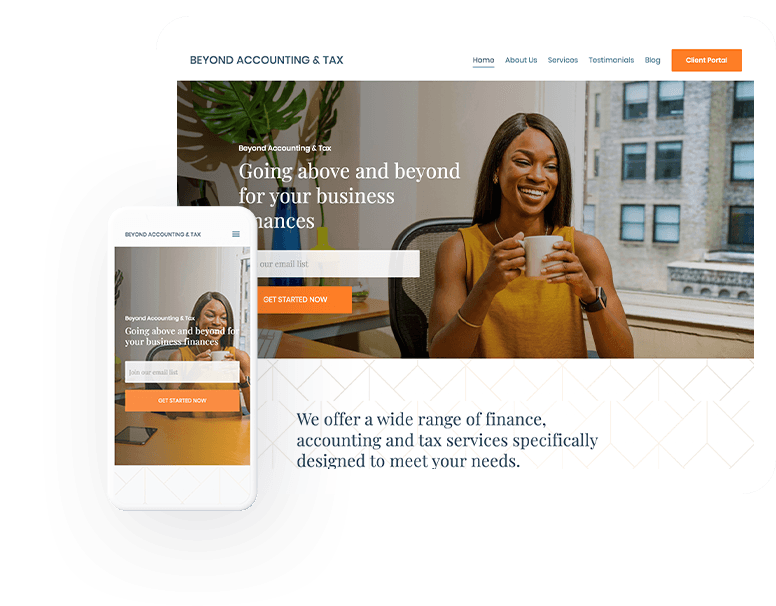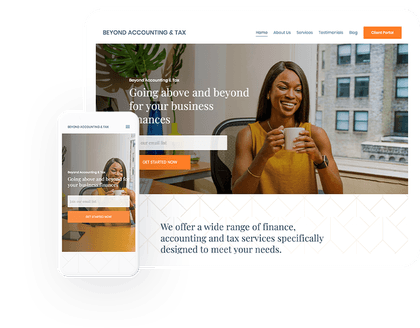 What makes a professional accounting website?
Highlights trustworthiness and value
Seventy-five percent of people judge a company's credibility on its website, especially for clients seeking accounting services. They can't afford to work with a company that lacks precision and attention to detail. Stellar design, clear and concise copy, and ease of navigation all play into the client journey. Incorporate smart design principles into your accounting website to demonstrate integrity.
Converts visitors into clients
The ultimate goal of every website is to convert visitors into new clients. Successful website design applies conversion tools like banners, pop-ups, and live chats to encourage more conversions. A strong SEO strategy will funnel traffic to your website, but you'll need to integrate additional design elements like forms, calls to action, testimonials, and urgency to transform traffic into clients.
Strengthens communication
Did you know that 43% of firms are increasing the amount of virtual work they do? Part of that shift from paper to digital is through the online client experience. Websites for accounts need to do more these days than provide basic contact information. Today, you need technology and automation that facilitates online communications, reminders, signatures, and more.
Reduces administrative liabilities
As an accounting professional, you want to allocate your time to helping clients make critical financial decisions, not chasing down overdue invoices or following up on leads. Make your website work for you and reduce business administrative tasks with automation and integrations. Eliminate redundancies by funneling more of your marketing, contact management, and invoicing through a centralized dashboard.
Web design strategy for accountants that works
You're an accountant, not a website designer. So why waste days, or even weeks, learning to build a website from the ground up? B12 helps accountants build beautiful, mobile-friendly websites in no time, thanks to AI-powered technology and on-platform expert support.
The benefits of B12 don't end with compelling, modern web design. We empower accountants to better serve their clients with a suite of online tools and integrations, including scheduling, invoicing, email marketing, and digital contracts.
A B12 website helps you attract, win, and serve clients without diverting hours from client-facing accounting work. Add agility to your firm, reduce administrative workload, and expand your reach to prospective clients.
1
AI-developed draft
Custom website design projects are costly, sometimes starting at $50,000 or more. Do-it-yourself options have a painful learning curve and eat up your valuable time. Enter B12 website builder: an all-in-one platform that saves you time, money, and frustration thanks to beginner-friendly AI-driven design. See your first draft in 60 seconds flat.
2
Design, copy, and SEO customized by experts
AI builds a strong foundation, then we deploy copywriters, designers, and launch specialists to personalize your website draft and get you across the finish line: a published website. The B12 team ensures your site represents your firm's values, mission, target audience, and branding — and we do it within 30 days.
3
Online tools and integrations to better serve clients
Level up your website before launch so it's ready to serve clients immediately. Leverage an expansive list of built-in online tools, from client intake forms and email automation to contracts and eSignatures. It's all native to B12, so in minutes, you're set up to make it easy for clients to do business with you.
4
Time to go live!
With high-quality design, a cohesive experience, and automations set up, it's time to launch your new website. Search engine optimization and mobile-responsiveness ensure you're findable online and your site looks great on every device. Evolve your online presence anytime using the DIY-friendly editor. Add new features and tools as needed to continually attract new clients and improve their experience.
Web design best practices for accountants
The key elements of effective accounting firm websites revolve around positioning your firm as innovative, building organic traffic, converting leads, and saving time with more efficient workflows.
Mobile-friendly design
Easy and intuitive navigation
On and off-page SEO
Tried-and-true CTA text and design
Conversion tools like new client intake forms and pop-ups
Eye-catching visual banners
Featured client testimonials and case studies
Relevant, informative blog content
Fast page speed
Reliable uptime
Scale your accounting firm with an online presence that works as hard as you do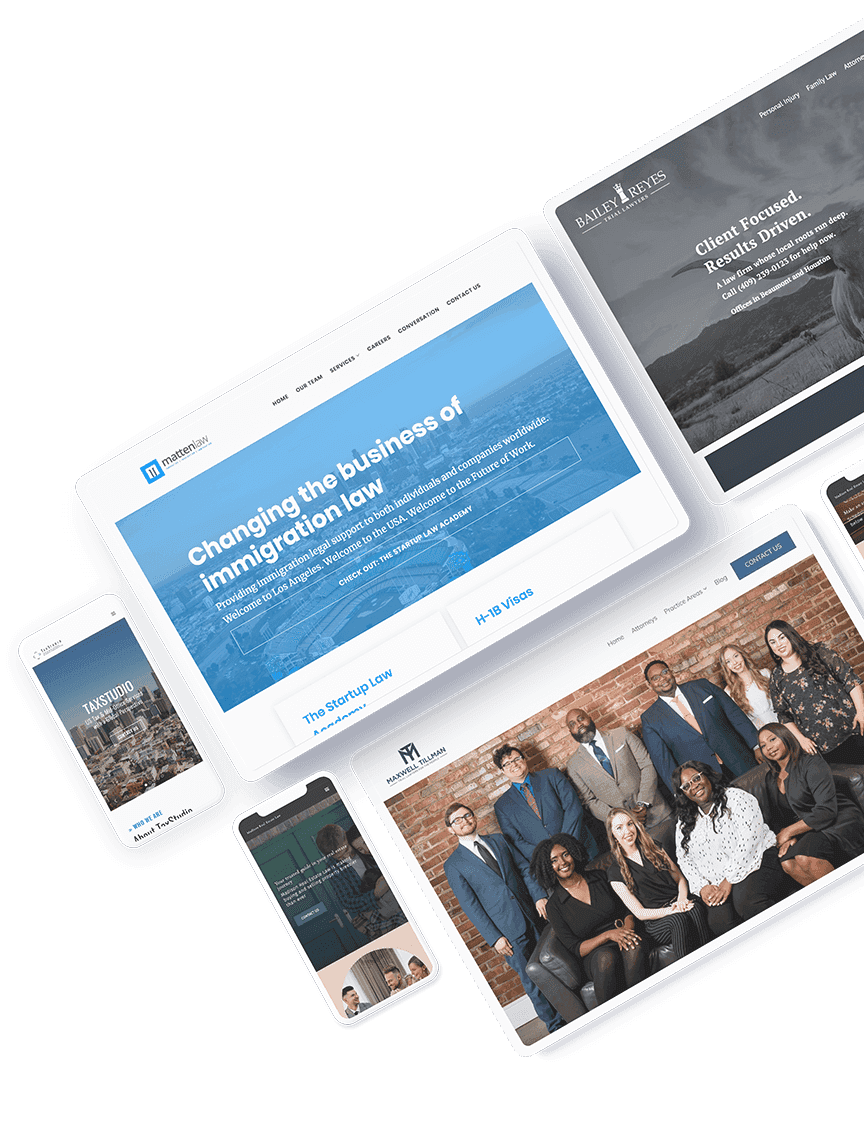 What separates a basic accounting website from a great one?
Accounting services are changing, and so should your website.
A basic accounting web page is just a landing page with text and basic functionality. It may offer a list of services and contact information but little else. But, these days, clients demand much more than a phone number and service menu. In fact, a recent survey reported that 82% of accountants find their clientele expect more than ever.
A solid website is built on core qualities like mobile-friendly design, rapid and reliable page speed, and search engine optimization. Beyond these basic principles, CPAs should demonstrate professionalism with helpful blog posts, easy navigation, compelling calls to action, and tools that let clients work with them almost entirely online. All of these elements drive traffic and increase credibility.
This is just the start. Once potential clients are further along the buying journey, a great website encourages conversion with banners, CTAs, intake forms, live chat, promotions, and well-timed pop-ups.
And this is just the start. Once potential clients are further along the buying journey, a great website encourages conversions with banners, CTAs, intake forms, live chat, and well-timed pop-ups.
A truly exceptional accounting firm website is a powerful tool to streamline time-consuming administrative tasks with online scheduling, invoicing, document signing, and automation. By integrating everything into a single mobile-accessible platform, your website can actually free up time spent on onboarding, marketing, invoicing, and back-and-forth communications.
Browse accountant firm websites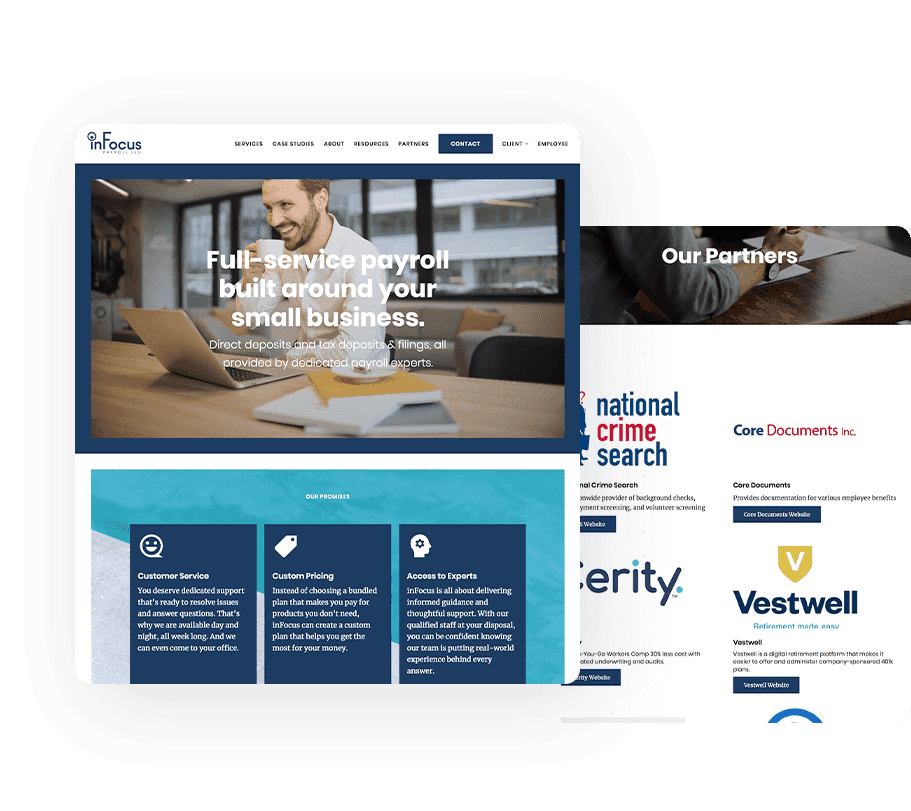 B12 helps accounting firms provide the best online experience for clients
B12 specializes in building custom professional websites for service providers like CPAs that help them stand out online and meet clients' expectations. Our design team leads in refining and launching your website project, so you focus on offering top-notch services to your audience. Leave feedback on your new web presence anytime or log in to B12 to make changes.
The B12 platform was created specifically for professional service firms to sell services online, and our web designers, copywriters, and SEO specialists have built hundreds of accountant websites that emphasize unique value propositions and streamline the client journey.
B12 is proud to receive 4+ stars on the top review sites, including: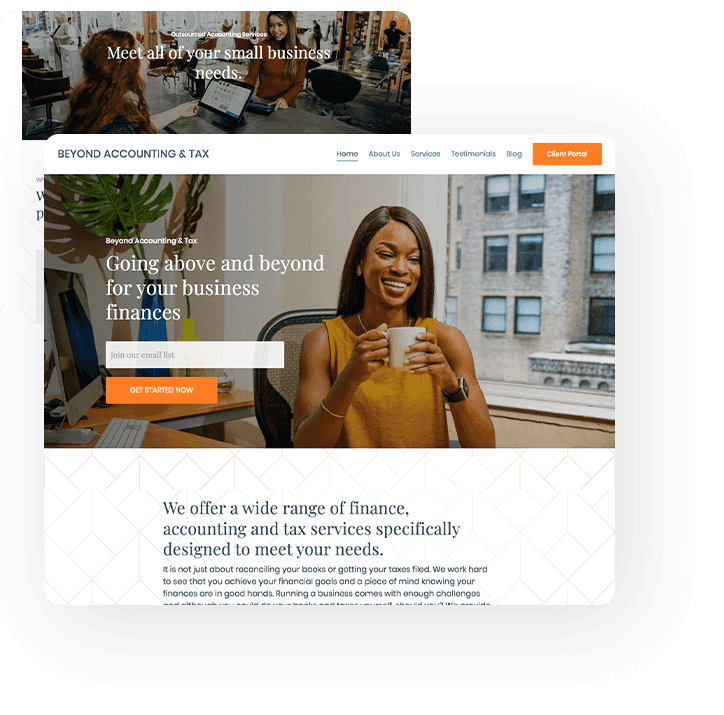 What do other service providers think of B12 websites?
Ron Matten
Founder and Attorney, Matten Law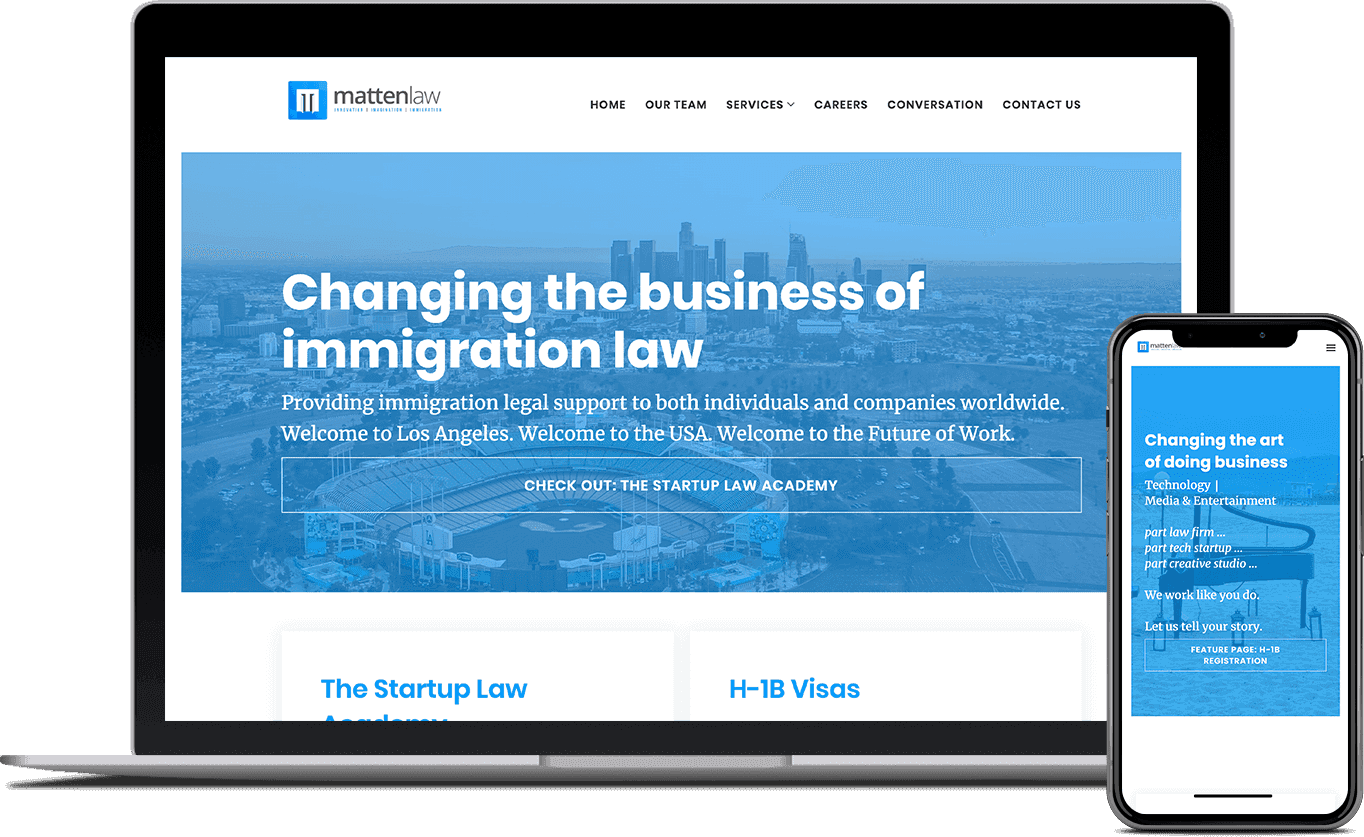 I would definitely recommend B12 to companies looking to take their online business seriously. The value that B12 provides is unparalleled.
Ron Matten
Founder and Attorney, Matten Law
Read Ron Matten's story
Leroy Maxwell, Jr.
Founder and Attorney, Maxwell Tillman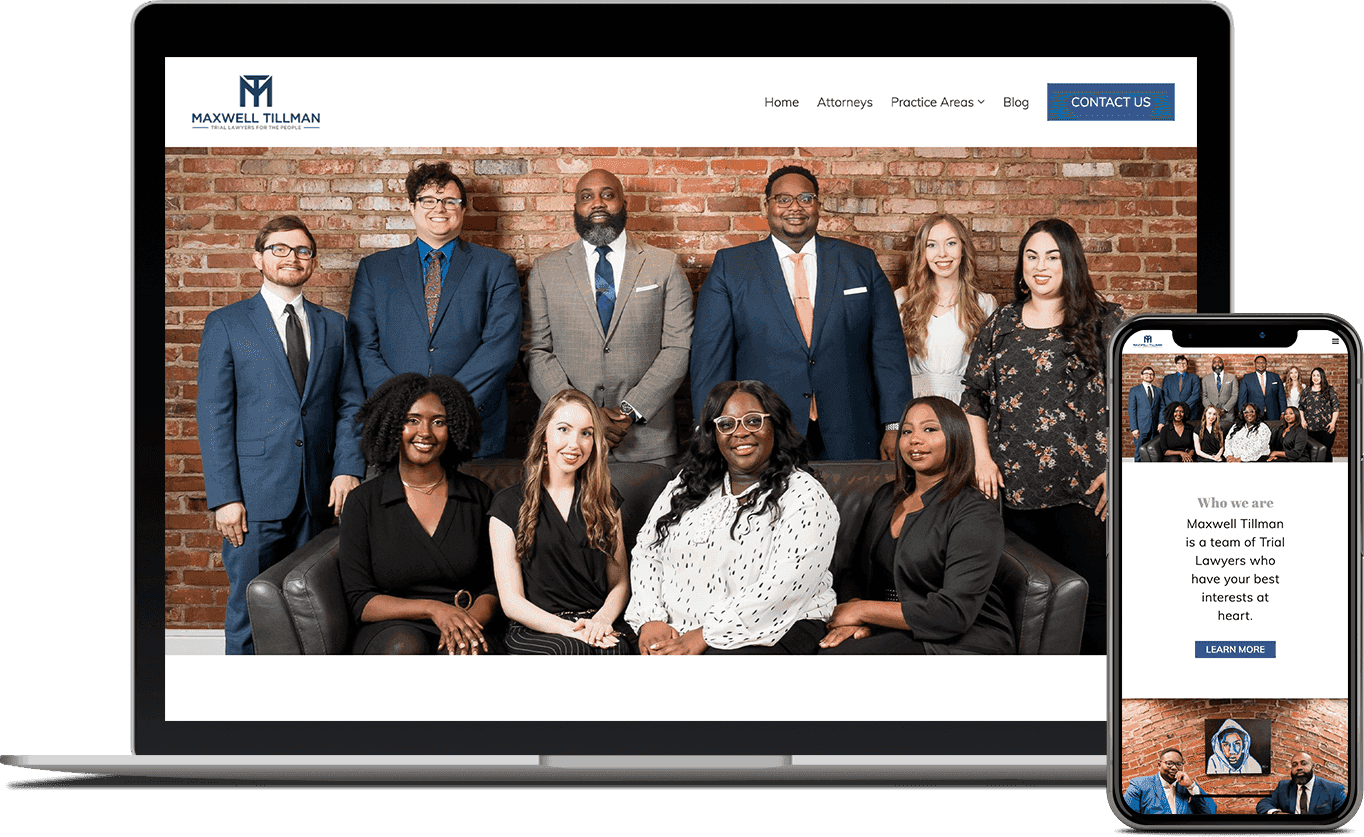 I would recommend B12 to any company that wants a team to manage and grow their website while they focus on growing the business. With B12, founders can be rest assured that their website is in good hands and, more importantly, prove its value and ROI.
Leroy Maxwell, Jr.
Founder and Attorney, Maxwell Tillman
Read Leroy Maxwell, Jr.'s story
Jia Junaid
Founder, Atlas Law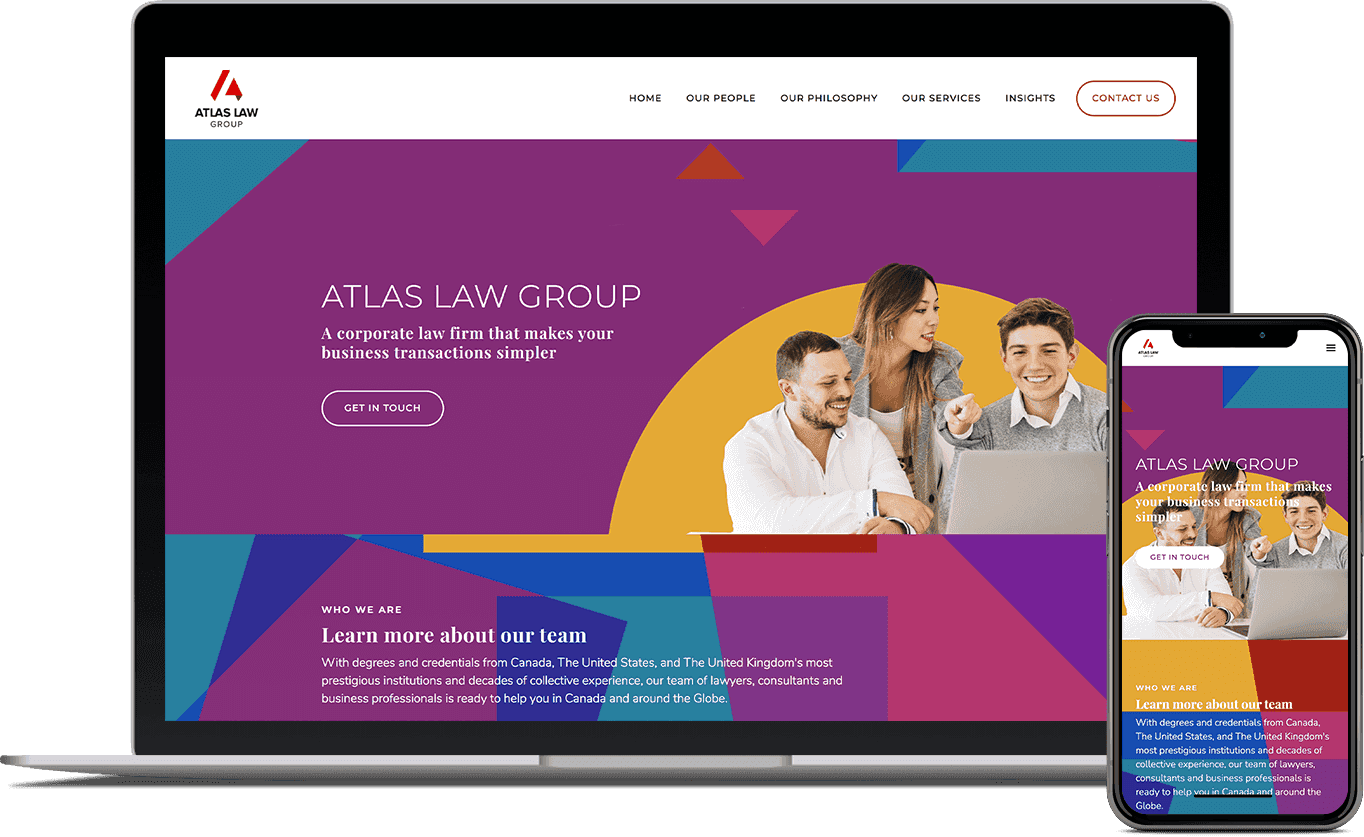 I love that B12 prompts me to update certain [website] features and add integrations like online scheduling to increase efficiency in my law firm. These recommendations are often things that I would have never considered but have proved to be incredibly useful.
Jia Junaid
Founder, Atlas Law
Read Jia Junaid's story
Frequently asked questions from accountants
Businesses don't take financial decisions lightly, including choosing what accounting firm to work with. So your digital marketing strategy, at its core, should strive to build trust and demonstrate your firm's unique value.
In more actionable terms, that could include social media built around free educational content, email marketing campaigns to gradually bring leads down the sales funnel, or more conventional approaches like keyword research and PPC ads.
When it comes to marketing your accounting services, there are so many possibilities. But it's easy to get started with B12's all-in-one solution. B12 comes packed with a suite of tools that empower you to drive more traffic, send email marketing campaigns, and guide prospects through the sales funnel.
SEO is a constantly evolving algorithm filled with indecipherable topics like rankings, traffic, alt text, click-throughs, keywords, and backlinks. But it doesn't need to be so complicated.
There are simple changes you can make to your site to optimize it for search engines and get on page one of a valuable keyword's rankings, including:
Perform keyword research to discover keywords that your audience is searching for
Include targeted keywords naturally in page titles for each page on the website
Add landing pages geared toward high-impact, relevant keywords
Frequently publish engaging blog content
If maintaining SEO doesn't fit your schedule or interest, B12 can help.
Our specialists find the right keywords and ensure SEO best practices are incorporated into your content and design, and that your firm is listed on relevant online accounting directories. We make sure your site is properly crawled by Google, and that the on-page experience pleases both visitors and search algorithms. As SEO best practices evolve, we ensure your site is up to date to help boost your search rankings and strengthen your online presence.
To start, you'll need a standout design with striking visuals that grab attention but don't overwhelm your audience. If your site is too cluttered or busy, visitors will bounce. Your accounting website will also need to highlight any relevant information, like your services, credibility, and company information. There should be visual cues, such as CTA buttons, that naturally guide the visitor toward the next step in working with you.
Finally, you'll need to incorporate an online promotions strategy, including pop-ups, discounts, and banners. These elements all work together to attract new visitors and win them over to repeat clients who are willing to give you a referral.
If a custom website sits on one end of the spectrum and a DIY version sits on the other, you'll find B12 as the perfect midpoint between the two extremes.
The B12 website builder offers time and money savings from AI technology, combined with the creativity and expertise of a real-life human team. You benefit from the speed and efficiency of automation without compromising on branding, copywriting, and user experience.
To start, answer a few basic questions about your business, and then our AI gets to work. In 60 seconds, you'll see a draft curated for your firm and the accounting sector, which we customize over the next 30 days or less to suit your accounting firm's clientele, vision, and brand.
Our unique AI-powered, human-tailored approach ensures a faster, painless web design process for accountants that gets the details right. It's better than an agency because you don't spend months going back and forth or blowing your budget. You don't feel lost or frustrated, like many business owners do when creating their site using a DIY platform. With B12, from your first draft to a successful launch, it only takes 30 days and doesn't cost tens of thousands of dollars.