Case study
Staffing firm accelerates growth with a website that delivers more efficient client experiences
Action Logistix saves time and money after switching from a design agency to B12, launching a website that converts employers and applicants.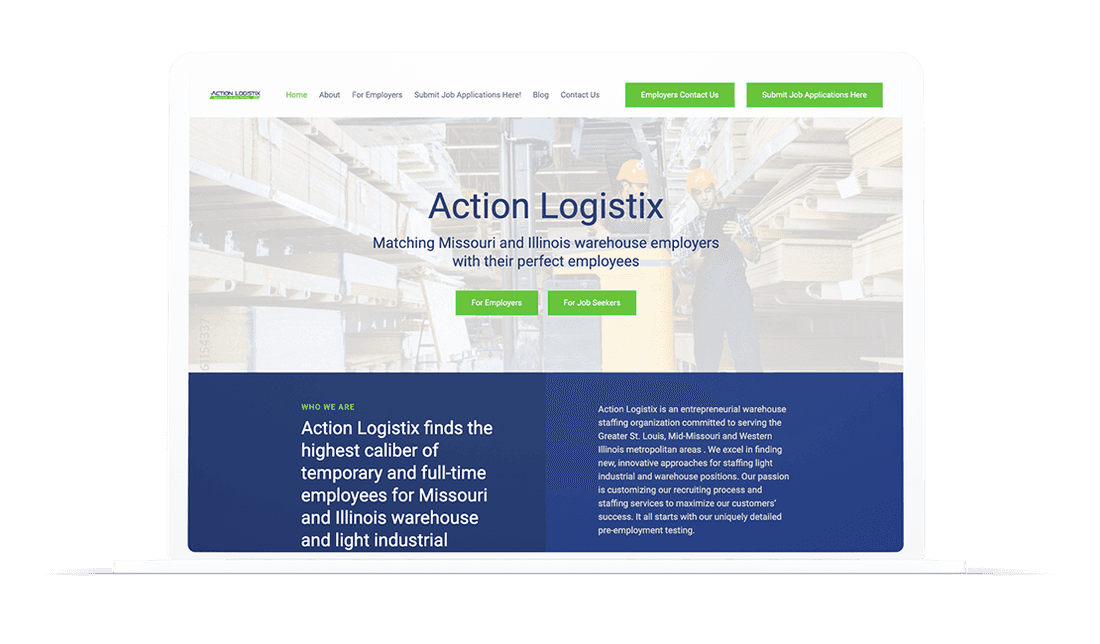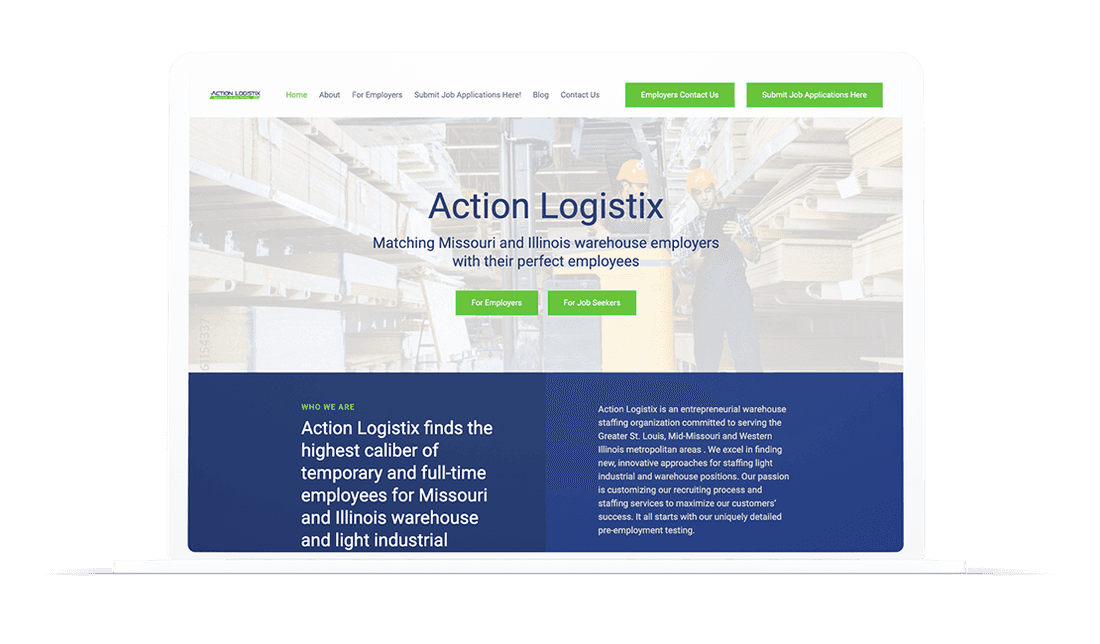 Industry:
Warehouse staffing
Company size:
350-450 employees
Problem:
Action Logistix was trying to build its perfect website, but slow, outdated processes kept them from realizing their vision.
Solution:
A website optimized for two distinct client experiences allows the firm to serve both of its audiences, helping fuel growth to $10 million in gross revenue.
About Action Logistix
Founded by a mother-son team, Action Logistix is a St. Louis-based staffing agency that serves job seekers and employers in the ​​warehousing and manufacturing industries. In 2018, Josh Browell, and his mother, Barbara Bartelsmeyer, brought together their respective talents in warehouse staffing, sales, and operational excellence to build a family business.
Josh and Barbara realized that the traditional approach to staffing had gaps. Based on their own experiences, and looking at other agencies, they knew many operate with a one-size fits all approach that often results in a high volume of less-than-ideal hires. So with Action Logistix, Josh and Barbara wanted to do things differently by focusing solely on warehouse staffing and using a more efficient and meticulous candidate review process. 
Their unique pre-screening process to assess workers, such as order pullers, assemblers, and forklift operators, helps employers find the highest-caliber employees faster. This method can reduce turnover and improve a company's productivity while saving employees the time and frustration of attempting a job they aren't qualified for. Action Logistix's pre-employment testing eliminates 25-30% of candidates right away, so companies only interview people who are qualified.  
When COVID-19 hit, Josh and Barbara found themselves in a tricky spot. Their clients were re-evaluating staffing needs, in some cases pausing hiring and shifting priorities. Deemed essential as a key part of the supply chain, Action Logistix luckily didn't need to close, but they had to re-evaluate their business model given how things had changed. That could have meant layoffs to cut costs, but instead, Josh and Barbara made retaining their current recruiting staff and finding new clients a top priority.
Barbara explains, "Josh, who has been key in new business development, doubled down and brought on 5 new key customers in the supply chain whose [non-specialized] staffing agencies were at home due to Covid restrictions." 
This new business kept Action Logistix and its employees busy. Now, more than two years after the pandemic's start, Action Logistix has successfully scaled when so many other companies couldn't do the same.
Today, the agency has grown to a team of eight internal recruiters, three offices, and employs more than 400 warehouse workers across the St. Louis area.  Action Logistix finds warehouse workers for St. Louis area-based national and international distribution and manufacturing facilities for items like commercial refrigeration systems, pet food, alcohol logistics, Italian food production, aerosol and liquid products, pharmaceutical and consumer goods, paint and color coatings for Navy ships and Major League Baseball fields. While the business is only 4.5 years old, its gross revenue has already surpassed an impressive $10 million.
The challenge
According to Barbara, recruiting is a numbers game. Their team has the formula down — if a certain number of people walk through their doors or submit applications online, they can predict how many will likely qualify for a position based on that number. They even know how factors like weather or a holiday weekend will affect their ability to staff. This expertise helps them pinpoint recruiting targets to hit and how to get more appointments made.  
Barbara also understood that generating leads for her business was a numbers game. She knew she needed a website that would be discoverable online and drive conversion to fill her pipeline with leads.
As of 2020, Action Logistix was using a web design agency for their site, which was still a work in progress. The design agency was expensive, had a long ramp-up process, and even after a year and a half of work, didn't meet Barbara's expectations. 
The website layout wasn't right and the process of making design tweaks and copy changes took days of back-and-forth emails. As a small business owner, Barbara was frustrated with having to allocate time to give feedback and explain edits for seemingly small changes she could have otherwise made herself.
Another issue was the lack of analytics and optimization. Barbara wanted quick access to Action Logistix's website traffic and SEO insights in a dashboard instead of receiving infrequent updates. No optimization was built into the site and metrics were spread across third-party tools that seemed unnecessarily costly and complicated.
Design-wise, the site didn't convey the Action Logistix brand and looked cluttered. Barbara wanted to communicate professionalism from a visitor's first second on the site, and knew she needed a clean, simple look that made it easy for both job seekers and employers to find what they were looking for. She thought, there has to be a less painful way to accomplish this.
The solution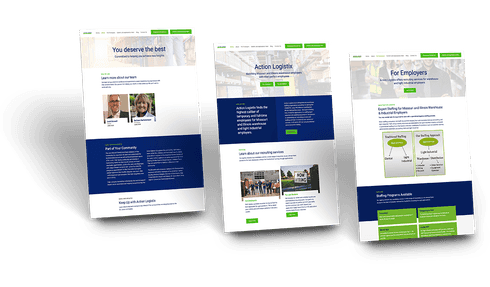 Simply put, Barbara was frustrated with the traditional web design process and was looking for a better approach. She expressed, "We shouldn't have to email back and forth and ask three times to change something. I started looking around for something with a template that offered lots of ways to customize it. A little plug-and-play with personalization that doesn't cost an arm and a leg."
She researched all the usual providers and stumbled across B12 in a Google search for website builders.
"I was initially attracted to B12's artificial intelligence and the ease-of-use value proposition. I also looked at examples of the work B12 does and I was impressed. Then I put Action Logistix through the 60-second website draft process, which I loved. I wanted some changes made, but I loved the look of it. So, then I made contact with [B12 salesperson] Dan, who's amazing. He sent me examples of optimization growth that other B12 customers had seen, and I was convinced." 
Action Logistix's new website went live only ten days later. Barbara worked with the B12 team on multiple rounds of iteration to get the site exactly how she wanted it, and she was impressed by how easy they were to work with and how fast and accurately they made the edits she requested. "The process is so cool. Submitting feedback, being able to talk with the team, and seeing them implement quickly is great."
Grow your business with less effort
Sign up to receive personalized advice to your inbox on how to look professional online, save time, and sell your services
The results
With B12, Action Logistix finally has the website Barbara previously spent years trying to build. 
"The primary goal of our website, which we've been able to do with B12, is to look professional, uncluttered and with our messages easily identified. When an employer is looking to hire a warehouse staffing agency, they'll do their due diligence online, so our site needs to show who we are and what we're about. First, we have to be found on search engines, then it has to make the person say 'wow!'"
Barbara recognizes the importance of intuitive website navigation to keep visitors moving through the funnel toward conversion and feels like B12 set up a seamless process that nurtures both of Action Logistix's audiences — employers and applicants. For both groups, it's easy to navigate the site and go in the right direction.
"B12 was able to create an applicant-specific page and put the online application portal right on our site so it's easy to find and we can now generate applicants through it. Employers go through a separate funnel on our website, and we reach out to them. B12 helps to optimize and get Action Logistix out there, so we are found by both groups."
As for Action Logistix's SEO results, Barbara says, "Optimizing the website has worked quite well. The blog shows that we are the knowledge leaders in our space and has helped with search engines. When you search "warehouse staffing st. louis" in Google, we pop right up on the first page. That has helped us find employers."
Regarding analytics, Barbara no longer has to mess with Google Analytics, their continual changes, or wait to receive a report from her website provider. Instead, she can easily check her website traffic and SEO performance in B12's dashboard.
Naturally, Barbara appreciates that Action Logistix has seen such impressive results after only a couple of years with B12 and that they're paying less than they previously did for their website.
"We saved a lot in monthly costs by switching to B12. It includes secure website hosting, so we didn't have to buy that from GoDaddy. We aren't charged extra for optimization tools anymore. We aren't overcharged for redesigning, because I can go in and make changes myself, and it's as simple as working in a Word document. If I need help, I'll email the B12 team and within 24 hours, boom, it's done perfectly.  B12 has an amazing team of people who just make it so easy.
Barbara has had such a pleasant experience using B12 that she has actually launched a second website on the platform: Action Delivers, a specialized delivery service partner.
Barbara hopes the company continues to grow in its space, and she has her eye on several employers in the area who could benefit from the company's services. She'll continue doing everything she can to make her business discoverable and valuable to potential clients when they're ready to consider a new staffing agency. 
Action Logistix started from nothing, achieved impressive growth through the leadership of a mother-son team, and will continue to stay in the family.
"I envision the business staying in our family for years to come. We'll continue to mentor our people and help them grow. Our goal is to improve the lives of as many people as we can possibly touch. And if we can do that as a family-owned business, it's a success."
Josh and Barbara also improve lives by supporting their local American Cancer Society chapter. The family got involved in raising money for cancer research following Josh's wife Jodi's diagnosis of stage 2 breast cancer. Now cancer free for over ten years, Jodi and the entire family are sponsors of American Cancer's Making Strides Against Breast Cancer. They created their own team, the J Walkers, which has raised more than $115,000.
Grow your business online with less effort
B12 helps Action Logistix make a professional first impression and convert two unique audiences on their website. A more efficient web design and iteration process allows Barbara and her team to save time and money while generating better results.
Now, we want to help your business realize its full potential whether your goal is to update your web design, reach more clients, or sell your services online. Book a consultation today to learn how B12 makes it easy to look professional online, engage your contacts, and grow your business.
Read more customer stories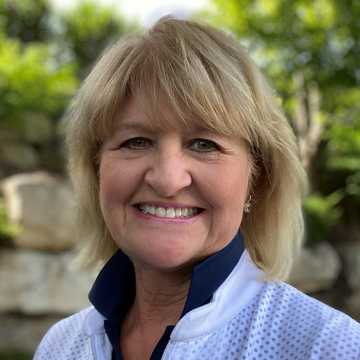 Staffing firm accelerates growth with a website that delivers more efficient client experiences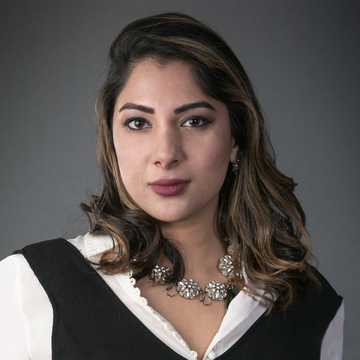 Atlas Law embraces technology and new approaches in its web presence that conventional law firms resist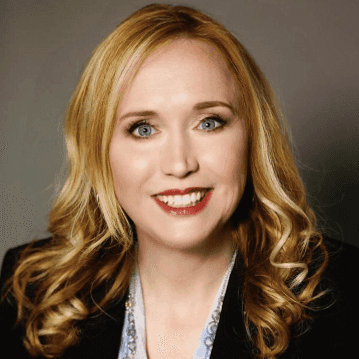 HR consultant finds a collaborative partner to take her website to the next level