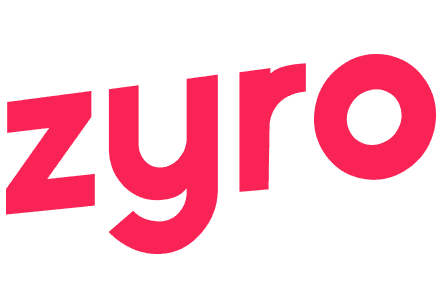 Zyro Review
Have a business idea? Even before they hash out the details of a product or service, many new small business owners start with a website first. In this early stage, you'll likely only need a simple landing page with a bit of basic web copy.
The Zyro website builder aims to facilitate website creation in this very early stage of business development. With a no-code, drag-and-drop builder, minimal template designs, and AI generators for everything from business names to blogs, Zyro is all about speed and simplicity.
But with limited add-ons and few features, is Zyro the best builder long-term? There are so many other website builders at a similar price point that may work better in the long run. This website builder review explores Zyro's simple platform to determine if it lives up to the hype and has any longevity.
What is Zyro?
Zyro is a code-free, template-based website builder. Many of its products revolve around AI tools, including an image editor, copywriter, slogan creator, blog title generator, and even a business name generator.
Zyro's AI features are built with the language modeling technology of GPT-2 and GPT-3. As many ChatGPT users know, this means the copy produced isn't always accurate or grammatically correct.
Zyro was launched in 2019 in Lithuania and recently became a subsidiary of Hostinger, a website hosting company.
What features does Zyro include?
After a few product evolutions over the years, Zyro has consolidated its offerings into two distinct plans, one for ecommerce businesses and one for all other site owners.
Website plan
The standard plan includes web hosting and a free SSL certificate. In addition, it gives you access to designer-crafted templates, AI logo maker, and blogging tools. For online businesses, you'll be able to integrate third-party features like live chats, Facebook-assisted visitor remarketing, and more.
Ecommerce plan
A plan designed specifically for small online shops that need ecommerce functionality, this includes everything in the standard package but allows you to list up to 500 products. You'll be able to sell online, process payments, book appointments, and get email notifications. This plan also gives you the ability to manage orders and inventory online.
How much does Zyro cost?
Zyro is one of the lower-cost website platforms, but they also generally have a sale that slashes prices even further. We recommend reading the fine print, however, because these plans often require a one- to two-year contract.
In the fine print, you'll also see that charges for your domain kick in after one year, and email starts costing you after three months.
Website plan
$12.09 monthly
Free custom domain for one year
Free email for three months
24/7 customer support
Marketing integrations
ECommerce (Business) plan
$12.50 monthly
Free domain for one year
Free email for three months
24/7 customer support
Marketing integrations
List up to 500 products
Payment processing
Only available in combination with a website plan
Only available in combination with a website plan

Who is Zyro best suited for?
If you are just getting started with your new business idea and want to bang out a simple website, for the time being, Zyro might be a good option. It's cheap, doesn't require technical know-how, and its templates suit a minimal modern aesthetic.
But that's the limit of potential for this website builder. It's great to get started but limited in what it can provide businesses in the long run. This is pretty clear from Zyro's website portfolio, where just about every example is a basic website with three pages or fewer.
For a professional service provider, even those who are just launching their business, Zyro is not ideal. Remember, only ecommerce stores get online payment capability and client scheduler.
Theoretically, you could try to use this platform to sell services rather than products, but many of the features, like order tracking and inventory management, aren't really designed for this purpose. There are few online features or third-party integrations to support your business.

What are the pros and cons of using Zyro?
Pros
Incredibly simplistic, template-based website builder is useful for businesses that just need a landing page
Drag-and-drop editor doesn't require any technical knowledge to use
Cons
Zyro is a limited and inflexible website builder
Zyro's online reviews are mixed. On Trustpilot, some customers report Zyro is easy to use with great customer service, while others say it's 'complete rubbish,' where 'nothing works at all.'
Many reviews say that services are difficult, if not impossible, to cancel, even within the 30-day money-back guarantee period
Reviewers report unauthorized charges long after plans have been canceled
The Zyro AI writer produces poorly written, grammatically incorrect content. This does little to showcase your business as trustworthy and credible.
How good are Zyro's pre-built website templates?
Zyro's pre-built website templates are varied and beautiful, but they are also incredibly simplistic. Most template examples in their portfolio have only three pages: the homepage, About, and Contact. This is beyond basic.
Many Zyro websites also have UX issues and bugs. Nearly all were riddled with significant grammatical errors in the web copy. Because customers, not Zyro, are responsible for the design and copy, it's not entirely clear whether or not these issues are due to user error or a flaw in the Zyro site builder and AI writer. But if Zyro has chosen to highlight these websites as worthy examples of their platform, in our opinion, this indicates a few serious issues.
Does Zyro offer copywriting, design, or technical support?
Zyro does not provide any stand-alone services beyond its two plans, and neither includes help with design or writing. Instead, users are responsible for tweaking template designs and writing copy.
Copywriting
Zyro does not provide custom web copy or blog writing, but it has an AI writer that can help produce generic content. Unfortunately, this content is bland, with glaring grammatical issues. Yes, it could help quickly populate your website with copy, but it will do nothing to convince your audience of your topical authority or trustworthiness.
Design
As a budget website builder, any design work is done by the customer with the drag-and-drop builder. Zyro does not offer any additional design assistance.
Technical support
Zyro proudly advertises its 24/7 customer support, which is included in both plans. However, a substantial number of recent one-star reviews on Trustpilot report ongoing technical issues with the website builder and platform functionality. Many reviewers expressed frustration dealing with Zyro's technical support team, often waiting days for help following their request.
What are some Zyro alternatives for small businesses?
If you need very little website content or functionality, there are plenty of other low-cost website builders available with better templates, integrations, and business features.
If you need something more scalable, B12 is a website-building platform and online business suite geared toward professional service providers, with features specifically designed to serve clients and streamline operations.
Our AI-powered platform creates your industry-specific website draft in minutes. Then we apply the power of human creativity to refine the copy, design, and SEO for your business and its client needs.
Most importantly, because we focus on professional service providers, our platform comes with an ever-growing list of tools and integrations to help you attract, win, and serve your audience online. You'll find everything from online payments to digital scheduling to invoicing tools.
Don't have the time or patience to build your own website? Have our experts manage your project for you.

Zyro review summary
Zyro is a fast and affordable website builder with minimal, mobile-friendly website templates. This could be enough for a new company only looking for a landing page. But for most small businesses and service providers, Zyro's tools and integrations are incredibly limiting. It fails to compare with other website builders available today.
If you choose to start with Zyro, as your business grows, you'll likely outgrow the limited platform. So it may get you started, but it won't help you scale.
For small businesses that provide professional services, there is a better solution to simplify the website-building journey and help you scale over time. B12 is fast, power-packed, and search engine-optimized. Essential features are built into every plan to make sure potential customers can not only find you on search engines but that you can deliver a convenient online experience.
Ready to get started? One of the best parts of B12 is you can build a professional website for free to try out the platform and explore its features. Why not preview your new mobile-responsive website today, complete with SEO tools and advanced features?