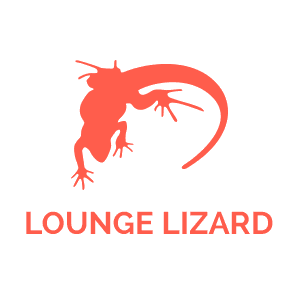 Lounge Lizard Review
If you want to launch a new website or revitalize an old one, what path are you going to follow? At one end are DIY website builders, and at the other, you'll find full-blown custom projects designed by high-end digital marketing agencies.
Billing itself as a top web design company, Lounge Lizard is one of the latter. It offers digital marketing strategy, creative design, and web development. But are their top-tier services suitable for small business owners?
As a website platform for small and mid-size businesses, we're analyzing the custom solutions that Lounge Lizard offers. We explore their menu of digital marketing services, research their prices, and review their portfolio. Then, considering all this, we determine if they are good for all companies — or only those with oversized budgets.
What is Lounge Lizard?
Lounge Lizard Worldwide is a web design company and digital marketing agency established in 1998 by Ken Braun and Sharon Sexton.
The company markets itself as a group of creative 'Brandtenders' and marketing 'Mixologists' with roots originating in the advertising world.
It has offices, aka "Lounges," in Long Island, NYC, Washington, D.C., Miami, Los Angeles, and Nashville. It doesn't necessarily focus on working with specific professions, instead, it casts a broad net.
A few industries Lounge Lizard has worked with include accounting, agriculture, fashion, ecommerce, technology, and tourism.
Braun and Sexton also founded the Lounge Lizard Web Design Scholarship, which awards college students $1000 biannually, plus a web design critique.
What features does Lounge Lizard include?
Lounge Lizard specializes in creating comprehensive custom solutions spanning both design and digital marketing. Their web design services often come rolled up with branding, strategy, and marketing elements as well.
Branding
A foundation of the Lounge Lizard service package is branding strategy. It focuses on story-telling, logos, visual identity, research, and strategy. The team of digital marketers will even help you name your company.
Web design
Lounge Lizard provides highly technical custom web design based in WordPress, Magento, and Shopify, among other platforms. They pay particular attention to UX/UI design and analysis and often incorporate content management systems, or CMS, into the final product.
Digital marketing
Under the Lounge Lizard digital marketing umbrella is a smorgasbord of possible menu items, including the following:
Marketing and sales automation
Search engine optimization (SEO)
Social media management
Pay-per-click management (PPC)
Email marketing
Amazon marketing strategy
Content marketing strategy
Influencer marketing 'mixologists'
Conversion rate optimization
It's not clear whether any of these are available as standalone solutions or if they come rolled into a larger package.
Web development
Related to their website design services, Lounge Lizard also does web development for more complex business needs. Their web developers are versed in WordPress, Drupal, Magento, Shopify, Python Django, NodeJS, Ruby on Rails, and .NET.
App development
Lounge Lizard has an in-house team of app developers and UX/UI experts to provide custom app design services for both OS and Android platforms.
Website maintenance
Lounge Lizard also does ongoing web maintenance for their customers as an auxiliary service to their web design or redesign projects. Website maintenance packages include continuing updates to text, graphics, navigational tools, links, and files, but the price varies depending on the degree of maintenance required.
How much does Lounge Lizard cost?
All of Lounge Lizard's packages, from web design to social media management, are unique one-off projects. They don't list any of their prices online, which tends to suggest their prices run at the higher end of the spectrum.
In one blog post, Lounge Lizard explores the cost question asking, "Why Is Web Design Company Pricing All Over The Place?" While they ask why one website is $3,000 and another is $50,000, they need to answer the question for themselves. As a reader, you come away wondering which end of the spectrum their own services fall into.
With a little digging, we uncovered several review websites that can help highlight the true cost of Lounge Lizard's web development services. And they aren't cheap. In the first example, customer reviews left on Clutch report project costs typically range from $10,000 to $50,000.
A second review website, Qualified Digital Reviews, supports these claims. They indicate Lounge Lizard web development falls into three price categories:
Templated website development
Logo and text amendments
Google Analytics setup
Hosting setup
Starter
$10,000 to $50,000
Website structure design
Website development
Web design
Database integration
Website launch
Advanced
$100,000 to $299,999
Prototyping and assessment
Website development
UX/UI design
Brand website design
Public web services (API)
Ecommerce functionality
CMS integration
Website copywriting
Even the basic price package places Lounge Lizard web design into the higher-priced tier of web designers available today. But let's face it, even $10,000 is often well above the budget for most solopreneurs and professional service companies.

Who is Lounge Lizard best suited for?
Based on the price point of their services and the highly technical nature of their portfolio, it's safe to say that Lounge Lizard is best suited for big companies with big budgets.
Small service providers and entrepreneurs getting ready to launch don't have the marketing budget or, honestly, the need to have such a code-intensive project.
There are more approachable alternatives that can create a highly stylized professional website but come in at a fraction of the price.
B12 is the AI-powered, expert-finessed platform that helps professional service providers boost their online visibility while also improving interactions with a suite of client engagement, invoicing, and marketing tools. It's a website builder that doesn't just look flashy — it actually helps streamline business operations.
What are the pros and cons of Lounge Lizard?
Pros
Websites are beautiful, often with advanced graphics and eye-catching visuals
They have an impressive roster of Fortune 500 clients
Positive reviews on project management
Cons
Services are all at the extreme end of the price spectrum, typically starting at $10,000 or more
There is a lack of clarity on costs for specific digital marketing and design services
No a-la-carte options like copywriting and design
Reviews suggest their support team isn't always as responsive as needed

How good are Lounge Lizard's pre-built website templates?
Although Qualified Digital Review suggested Lounge Lizard used website templates in their basic web design package, we were still looking for more information to support this claim.
Lounge Lizard is a custom web development company that builds high-end websites. According to their portfolio, their designs have significant technological elements like graphics and specialized ecommerce components.
These are eye-catching features but come with a steep price tag. We also found many of their more advanced websites slow to load. As Google explains, "The probability of bounce increases 32% as page load time goes from 1 second to 3 seconds." Many of the fancier features Lounge Lizards adds, like graphics and other visuals, seem to slow the pages down.
So while we can't technically review the quality of their website templates (or even confirm if they use templates), we can review the many custom projects they've created over the years. In sum, these high-budget products are flashy and visually impressive but graphic-heavy and slow.
Does Lounge Lizard offer copywriting, design, or technical support?
Copywriting and content marketing
At the time of writing, Lounge Lizard doesn't offer a la carte copywriting services. Instead, these come as part and parcel with their other services, including website design, social media marketing, and other digital marketing campaigns.
And while it's never explicitly explained, based on price alone, we can assume that Lounge Lizard incorporates custom copywriting into their quotes. Based on extensive consultation and brand strategy sessions, they will develop a brand identity, including voice, which influences the copy.
As an aside, they offer content creation as a digital marketing tool. Content marketing is technically a branch of copywriting. They offer several levels of content marketing, which all include:
Exclusive content assets
Focused marketing strategy
Competitive analysis
Market share prediction
Content analytics
Web design
Lounge Lizard does offer advanced and comprehensive web design services. Their custom designs come from web developers who are well-versed in all major platforms, like Shopify, WordPress, Drupal, and Magento, among others.
To a limited degree, the company also incorporates web design services into its ongoing web maintenance solutions. This may include updating text, photos, graphics, links, navigational tools, and pages.
Technical support
While we can assume that Lounge Lizard's services include a technical support element, their support channels are not publicly available. Likely, there is a dedicated technical support team, but their contact is only available for current clients.
We also found several reviews on Clutch that suggest Lounge Lizard has failed to meet clients' expectations on technical support, especially near project completion. Customers reported that Lounge Lizard didn't finish fixing all the bugs and that the support team was unresponsive.

What are some Lounge Lizard alternatives for small businesses?
Lounge Lizard is a creative agency for a particular type of client: large, deep-pocketed, and on long timelines. Their comprehensive and flashy services are beyond the budget for many small businesses. Moreover, because of the scope of pre-assessment and brand strategizing, their services take a while to get rolling and even longer to launch.
Small businesses need a more affordable solution and one that doesn't take months to go live.
Fast and affordable web design usually ends up with a DIY approach using platforms like WordPress, Wix, or Shopify. If you've got the time to invest in learning the nuances of these website builders, they can save you money — especially in comparison to custom web design agencies like Lounge Lizard.
But what small business owners have the time or the expertise to build their own website? Especially one that comes complete with the tools they need to do business online.
May we suggest another solution?
B12 is both affordable and fast. Most importantly for business owners, it doesn't require a lengthy learning curve or six months of strategy meetings.
Instead, our AI-powered website builder automatically delivers an industry-specific website draft in 60 seconds, not several months.
Then, we elevate your website draft. Our team of copywriting, design, and launch experts help you customize it to reflect your brand and appeal to clients. We ensure you spend less time building your website and more time running your business.

Lounge Lizard review summary
Lounge Lizard sells itself as one of the top web design companies, but this also comes at a top-tier price. Their portfolio is packed with custom websites that showcase their ability to create technical graphics and ecommerce features.
But, while this level of design might appeal to Fortune 500 companies and other large corporations, it's not necessary for small business owners like professional service providers. We also found that many of these eye-catching custom features weigh websites down, leading to slow loading times.
You can run a successful, competitive, and profitable business without all the flashy graphics. The truth is, your website doesn't need to cost $50,000 to attract, win, and serve clients online.
B12 helps professional service providers launch mobile-friendly, search-optimized websites loaded with client management tools in just 30 days. We use AI technology to create beautiful websites with a custom feel but for a budget that works for small businesses.