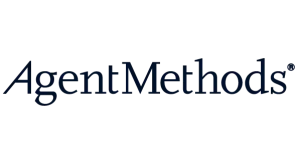 AgentMethods Review
Like any small business, independent insurance agents need a professional, functional, and compelling online presence. Your insurance website needs to help customers find your business, learn about your services, and convert.
AgentMethods is a web design and digital marketing agency that aims to do just that. It's hyper-focused on serving the insurance industry by building simple websites, tackling email marketing, and supporting other outbound marketing tactics.
Its web builder technology is positioned between popular DIY website platforms and the more costly custom approach. But is AgentMethods the only solution for independent agents and brokers? We examine how AgentMethods stacks up against other solutions and if their services are worth the investment.
What is AgentMethods?
Since its launch in 2009, AgentMethods has created more than 4,000 websites for US-based independent agents.
They initially collaborated with insurance carriers to learn the industry and discover what agents need in terms of online tools and website features. They then built these lessons into their own proprietary website builder, which they call a "highly flexible template-based system."
Beyond websites, AgentMethods has expanded its services to include other support for small online businesses, like email marketing, social media marketing, and blogging.
Although AgentMethods serves all types of insurance sectors, they tend to focus on some specific niches:
Life insurance
Health insurance
Homeowners insurance
Auto insurance
Beyond the insurance sector, they support auxiliary industries, like final expense agents, Medicare supplements, and senior product retailers.
What features does AgentMethods include?
First and foremost, AgentMethods offers website creation through their template-based web builder. Their additional features, like blogging and social media, are not available as one-off services. Instead, they are included in the more extensive packages, like the Agent and Super Agent plans.
Insurance websites
All of AgentMethods' packages include a new template-based website. It's customizable through the website builder, with limited support from the AgentMethods team during onboarding.
Their websites are easy to brand with your logo and colors. In addition, they host a massive library of insurance content, which is available to copy and use on your own website. They also allude to tools like an online scheduler and quote builder, which may be included in the packages — although this isn't entirely clear.
Email campaigns
The Agent and Super Agent plans include access to "turn-key email campaigns" through their email platform. First, they supply the prewritten content for you to choose from. Then, the platform helps you customize the emails with your branding and schedule up to three months in advance.
Outbound marketing
The most expensive package, the Super Agent, builds on the previous plans with additional marketing services. Their Ultimate Marketing system includes prewritten social media posts, blogging, and automated monthly email newsletters.
How much does AgentMethods cost?
If website design existed on a spectrum of free DIY services to costly custom creations, AgentMethods exists on the more affordable end.
AgentMethods has a very straightforward pricing structure: three distinct plans, each with setup fees and an ongoing monthly subscription charge.
The monthly costs are similar in price to DIY platforms like Wix and GoDaddy, but that's also because the AgentMethods platform requires a lot of input from the customer.
Foundation plan
Setup $399 | $149 monthly
Basic insurance website
Access to a library of insurance content
Mobile friendly
Assistance from the onboarding team
Agent plan
Setup $399 | $299 monthly
Everything in the Foundation plan
Turn-key email program with prewritten content
Includes capacity for two marketing emails sent to 1,000+ contacts per month
Built-in prewritten landing pages
Super Agent plan
Setup $399 | $499 monthly
Everything in the Foundation and Agent Plan
Online marketing campaigns created for you: 5x social media posts per week and one email campaign sent to 3,000+ contacts per month
4x prewritten blogs per month
Quarterly planning call with the AgentMethods team

Who is AgentMethods best suited for?
AgentMethods markets itself as a good fit for insurance brokers of all types, including travel, health, home, and more. With a drag-and-drop editor and a library of content to copy, it could be a good option for agents who already have a roster of clients and just need to get online quickly.
However, despite marketing itself to the insurance industry, AgentMethods doesn't offer many useful tools to serve clients online. Today's consumers expect tools like online payment processing, contract signing, and popular third-party integrations, which Agent Methods doesn't provide.
To generate more leads and increase sales, you'll need an advanced set of features to set you apart from the competition. Not to mention custom copy demonstrating your personality, professionalism, and value. Prewritten, generic copy just doesn't cut it anymore.
Unlike AgentMethods, B12 comes supercharged with powerful but easy-to-use online tools and features to serve new and existing clients — email templates, online scheduling, client intake forms, invoicing, payment processing, and so much more.
Our platform creates an industry-specific professional site using AI-powered technology, so you have the basis for your new website sooner. Then we finesse it with a team of design and copywriting experts. That means custom copy and web design suited to your brand and mission.
Our websites aren't just boilerplate templates. Instead, they demonstrate real value to help you attract, win, and serve clients online.
What are the pros and cons of AgentMethods?
Pros
Their affordable web design is specific to the insurance industry, including agents, brokers, and auxiliary services.
AgentMethods' websites are functional and mobile-friendly.
AgentMethods supports users with easy drag-and-drop templates.
Cons
When it comes to SEO, prewritten content is not the best practice. Search engines recognize and penalize duplicate content, meaning your ranking could suffer by copying the boilerplate content produced by AgentMethods.
AgentMethods has several typos on its own website, leading us to wonder how good its prewritten content is.
The portfolio of samples is small (only three displayed), and all look remarkably similar in format and style.
They allude to helpful tools like an online scheduler and quote creator, but it's unclear if they are included in any of their packages. These days, you'll need many more online features to meet customer expectations.

How good are AgentMethods' pre-built website templates?
Would we call any of the samples in the AgentMethods portfolio "beautiful websites"? From our review of the limited portfolio, they are simple and functional but not beautiful.
Of the three examples listed, they all look remarkably similar. Because AgentMethods is a customizable template-based webpage creator, some of these similarities may be chalked up to the whims of their clients.
Still, it's hard to see if there is any variation in the types of templates and designs they offer from such a limited portfolio. Usually, template-based web design companies display a gallery of designs to browse through. No so with AgentMethods. You won't know which templates are available until you sign up.
A second concern is the quality of the prewritten content. Not only are there spelling and grammatical errors on their own website, but we also found the same to be true for the blogs provided to paying clients.
While boilerplate content may save you time, if it's lackluster and error-filled, it won't convince your prospects of your professionalism.
Does AgentMethods offer copywriting, design, or technical support?
Copywriting
Agent Methods does not offer custom copywriting services. Instead, they provide a library of prewritten content, including web copy, blogs, and email newsletters. Because they only work with insurance agents, this could be a problem if you want to stand out from other agents in your region.
Design
They do not offer design services. Remember, this is a template web builder that uses drag-and-drop functionality to help non-tech-savvy agents build their websites. So while AgentMethods will help with some aspects of the design during the onboarding process, they also "encourage you to be hands-on so you can truly be in control of your website."
Technical support
AgentMethods' customer support team is based in the US and has a positive overall rating both on their website and on review sites. Online reviews indicate their technical support is relatively fast and reliable.
What are some AgentMethods alternatives for small businesses?
If you are a small insurance company or a lone agent, you likely don't have the budget for a fully custom website that costs $10,000 or more. It's probably why you found yourself looking up reviews of AgentMethods: because their services are affordable.
But they aren't the only web builder out there serving the insurance sector. Many agents decide to make their own websites through other DIY or hybrid platforms. These are generally in the same price range but require even more legwork to learn the platform, manipulate the template, and write the copy.
What if there was another way?
Our mission at B12 is to help people do meaningful work. We enable small businesses to create professional websites using a combination of AI and experts, so they launch faster and remain focused on serving their clients.
Our all-in-one platform creates a search engine-optimized insurance website in mere minutes, which we then elevate with your branding, professionally written content, and integrated online tools for client management.
Quickly get your website up and running without losing out on quality, functionality, or SEO performance. Get in touch with B12 today to get started.

AgentMethods review summary
At best, AgentMethods is an easy-to-use web builder for insurance agents needing a simple website with limited functionality. At worst, it still requires a lot of work, uses generic prewritten content, and has a limited number of template designs.
It will take a lot of work to stand out among other insurance agents with the basic templates and copied-and-pasted content, not only because search engines discourage duplicate content but because your website will lack personality. Without personality and your unique differentiation, why would clients choose to work with you?
That's why at B12, our design process is different.
We offer professional design services at a fraction of the cost of working with an agency, and thanks to an AI-powered platform that creates the first draft, we go several steps further to tailor the design and copy to you and your organization.
The B12 team is always there for you during onboarding and beyond. Our copywriters, designers, and SEO specialists learn your business goals and take the lead in creating your online presence.
We ensure your website suits your brand's identity, personality, and mission in a way other web builders can't. Are you ready to see your new website draft? Get started for free.