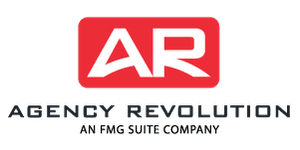 Agency Revolution Review
Today's competitive business landscape demands that insurance brokers and agencies have an online presence that includes a professional website. When done right, this helps you build relationships, generate new leads, and, ultimately, grow your revenue.
Agency Revolution is a digital marketing company serving the insurance industry that has recently expanded into web design. But with a lack of information available online, it's hard to figure out what they're offering.
So, let's get to the bottom of Agency Revolution, as well as their associated brands (Forge3, Fuse™, and Elevate™). Are their websites and services worth it for insurance agencies and brokers?
What is Agency Revolution?
Agency Revolution is a company that offers digital marketing tools to insurance agencies in the US and Canada. Their services revolve around three core categories: insurance websites, marketing automation, and coaching.
Underneath the Agency Revolution umbrella are three unique products: Forge3, Fuse™, and Elevate™. Forge3 is a web builder, Fuse™ is a marketing automation tool, and Elevate™ is marketing assistance.
Michael Jans co-founded Agency Revolution in 2007. Jans has been a leader in the insurance industry for more than two decades, co-authoring The InsurTECH Book, hosting an insurance podcast, and now heading up an insurance advisory organization.
After a decade of development, in 2017, Agency Revolution was acquired by FMG Suite, a San Diego-based marketing software platform. The company is based in Bend, Oregon, and Scott White heads the firm.
What features does Agency Revolution include?
Agency Revolution's services may be broken into three "solutions": Forge3 insurance agency website design, Fuse™ automated marketing, and Elevate™ marketing assistance.
Forge3 insurance agency web design
Forge3 is a website builder that Agency Revolution recently acquired. It's not entirely clear if the Forge3 websites are fully custom or customized based on a set of pre-built pages and copy. However, they promise to help with local SEO and business listings. They also come with several online tools like graphics, videos, and lead capture forms.
Fuse™
Arguably, Fuse™ is Agency Revolution's primary service. This platform integrates with your client and policy data to create personalized communications and targeted ad campaigns. In addition, it comes with pre-built campaigns and content for email, SMS, and more.
Elevate™
Because not all insurance brokers were born marketers, Agency Revolution has launched a coaching and assistance service to help you manage all aspects of your marketing strategy. That may include posting to social media, creating email campaigns, and helping you with website updates, PPC work, or even planning events like webinars.
How much does Agency Revolution cost?
How much do any of Agency Revolution's marketing services cost? Your guess is as good as ours because there isn't any information on their website or third-party review websites.
According to Forge3, the platform owned by Agency Revolution, their pricing model is simple. They have a flat monthly rate of $250 with no contracts.
But, frustratingly, this information isn't available on the Agency Revolution website. This may mean prices aren't a direct translation from what's listed on the Forge3 website.

What are the pros and cons of Agency Revolution?
Pros
Agency Revolution offers online tools specific to the insurance industry, like graphics and lead generation forms.
Cons
There is extremely limited information available on Agency Revolution's website, including prices, features, and examples.
Agency Revolution is a confusing network of companies, including their web builder, Forge3 (it is also sometimes called ActiveAgency). It's unclear if their recent acquisition of Forge3 affects which company delivers the service.
There are few reviews available on trusted third-party websites, like Clutch, Trustpilot, or Capterra. There are some notable negative reviews, especially those detailing the difficulty customers had canceling lengthy contracts.
It's not clear whether or not the content developed for your website is repurposed from a pre-built library or custom to your agency.
How good are Agency Revolution's pre-built website templates?
Truth be told, we have no idea if their pre-built templates are any good. Not only are there no examples available in an online portfolio, but there are also no reviews on third-party platforms like Trustpilot or Clutch.
It's not even clear if their websites are custom-coded or created from a library of content. According to Agency Revolution, "Unlike websites built from a generic template, your new website will be a highly-optimized custom website built for insurance agencies." But they also talk about working with over 200+ pages of content.
With that said, it's hard to offer any insight into how good their websites are, template or not. Are they mobile-friendly? Are they functional? Do they follow best practices for SEO, UX, and design? It's not easy to find out.

Does Agency Revolution offer copywriting, design, or technical support?
Theoretically speaking, Agency Revolution provides copywriting, design, and technical support — as least as a part of website design. However, the details are fuzzy.
Copywriting
From the information available online, copywriting is the only service offered as a standalone option.
As copywriting is integrated into the web design, it's not clear if the copywriting is custom. As detailed above, while they refer to a "highly optimized custom website," they also state, "all 200+ pages of content are optimized for search." Are these pre-written and duplicated across other agency websites? We're not sure.
Design
There is no information available on the underlying web design platform they use (Magneto, WordPress, etc.). Nor do they go into any detail about the design process, including intel-gathering, revisions, or design updates.
Technical support
There's no information available about their technical support services.
What are some Agency Revolution alternatives for small businesses?
If the lack of information on Agency Revolution makes you hesitant, you're not alone. But the good news is, plenty of other web design services serve the insurance industry. Even better, many are more transparent about their prices and services than Agency Revolution.
In the wide world of website design, there are several approaches you can take: DIY, fully custom, and platforms that sit somewhere in the middle.
DIY options like GoDaddy and WordPress may be affordable, but they are time-consuming and require a lot of technical know-how. Meanwhile, fully custom options build sleek modern websites for you but cost an arm and leg to do so.
As an insurance agency, you likely need a website design platform that is both affordable and simple to use — one that does a lot of the work for you but makes it easy to do updates yourself.
B12 is an all-in-one platform that helps insurance brokerages create professional modern websites that attract, engage, and serve clients. It's driven by AI technology and a team of creative experts to help you convey your unique message while serving your clientele with a suite of powerful online tools like online scheduling and digital contracts.

Agency Revolution review summary
Agency Revolution offers websites, marketing automation, and coaching. But with no listed prices, vague details, and no examples, it's hard to speak to their services with any confidence.
There are no prices on their primary website for their web design service. Instead, you'll need to go through the process of setting up a sales call to find their rates. This is a barrier to launch and delays the entire process.
With so many separate companies nested under the larger Agency Revolution umbrella (Forge3, Fuse™, Elevate™, ActiveAgency), it's incredibly confusing. There seems to be a lot of crossover between each service, but we aren't sure how that affects the price point.
With that in mind, there are definitely more transparent services available for insurance agents and brokers.
If you work within the insurance industry, our B12 Builder will draft a professional website for you in minutes. Then, our team of design, copy, and SEO experts help you customize it to suit your value proposition and client base. In 30 days, you'll have a mobile-friendly and search-engine-optimized website to help you get found online and convert.
B12 websites also include a growing list of powerful client engagement and business management tools to serve clients online while making your operations, including invoicing, more efficient.
Want to see what your new website looks like? Try it now for free with no credit card required.