Attract more students and institutions through your education consultancy website
As an education consultant, you're a trusted advisor to students, families, schools, and educational organizations.
For each client, you tailor your message and services to best meet their needs. Does your website do the same for every visitor?
To make the right first impression and win new clients, your site should reflect the qualities that make you a great education consultant: excellent communication, well-organized, and constantly working to optimize processes. It should make it easy for your audience to learn more about your solutions and find resources to increase their chances of success.
Create your free website in seconds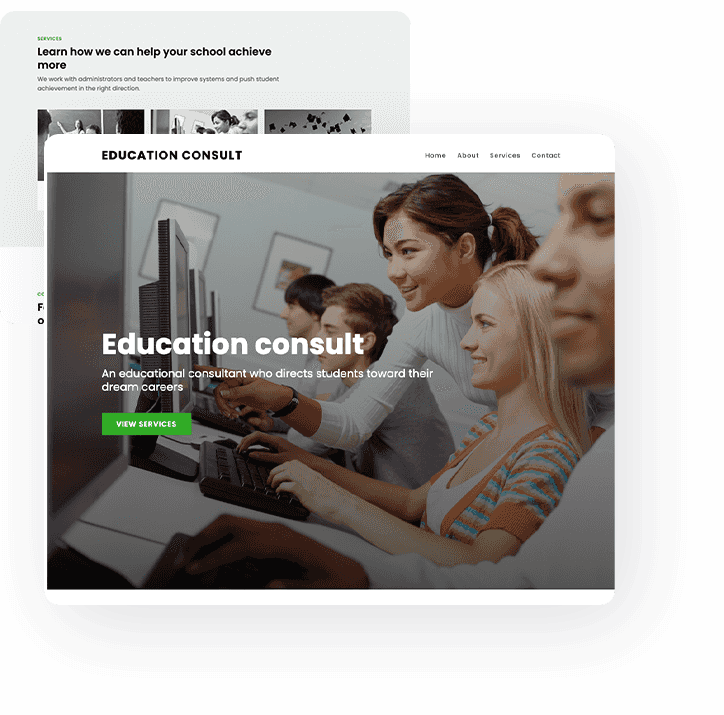 Give clients easy access to contact, book appointments, and pay you online
The most successful consultants are flexible and disciplined, with great attention to detail.
Your website should reflect these qualities by positioning you as the educational expert to hire and setting up a seamless client journey.
Keep website visitors coming back for more and increase online engagement by filling your site with powerful tools like intake forms, online scheduling, payments, and digital contracts. Whatever someone is trying to accomplish on your website, remove the friction and make it as convenient as possible. Your website may be about you — your talent, interests, and insights — but its purpose is to help your prospects and clients overcome challenges.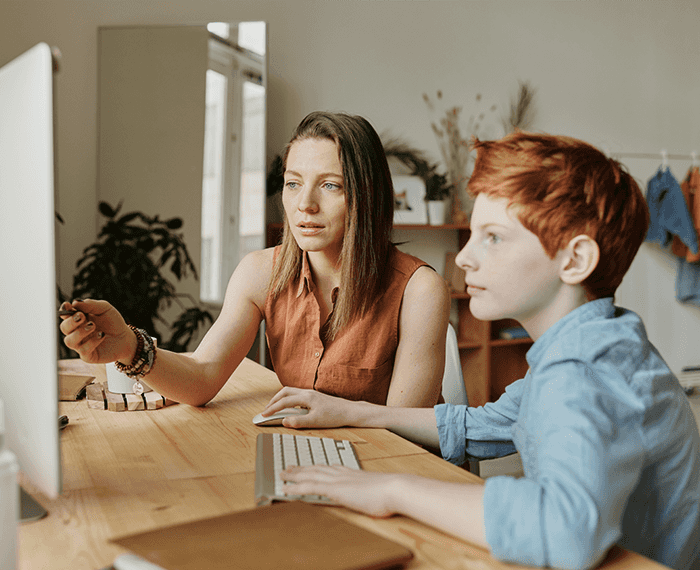 Education consultant website best practices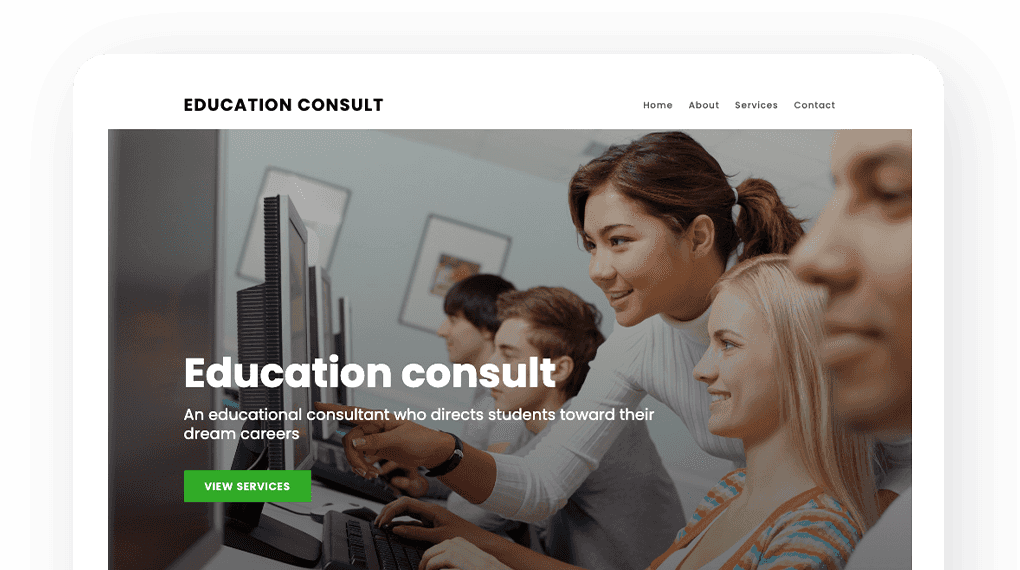 Appealing design
Your website's design is often your consulting firm's first client touchpoint and how people perceive your brand. Impress visitors with an aesthetically pleasing, custom design. The visuals, content, and user experience should support converting your traffic to paying clients.
Valuable content
Place the most important information about your education consulting services above the fold on each web page. Throughout your site, link to high-value offerings like social proof, case studies, and webinars. Whether you're trying to attract parents of young children, higher education administrators, or college students, tailor your website copy to their concerns and challenges.
Lead generation tactics
Your website is where you present your vision and strategies to visitors, but just as importantly, it's a lead generator to grow your business. Interactive conversion elements like website forms, content downloads, calls to action, and website pop-ups collect visitor information, keep them engaged, and push them down the sales funnel. Offer something of value, like a discount on their first tutoring session, in exchange for their email address.
Client-focused workflows
Make every step of the client journey efficient and convenient by bringing more parts of your business online. Automating lower-value tasks like writing confirmation emails and duplicating invoices saves time and lets you focus on providing educational services. Make it simple for clients to sign documents, view and pay invoices, and schedule meetings with you in only a couple of steps, without leaving your site.
Demonstrate your deep expertise with a custom website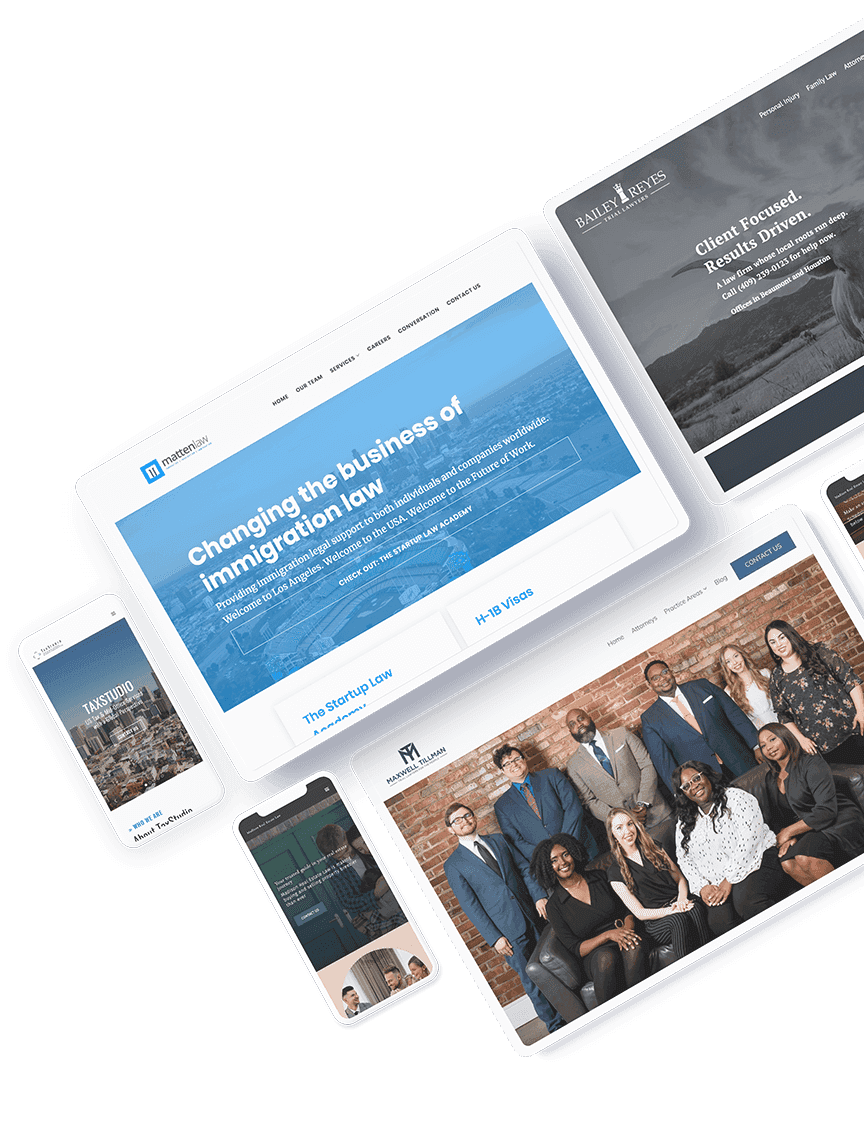 What do other business owners think about their B12 websites?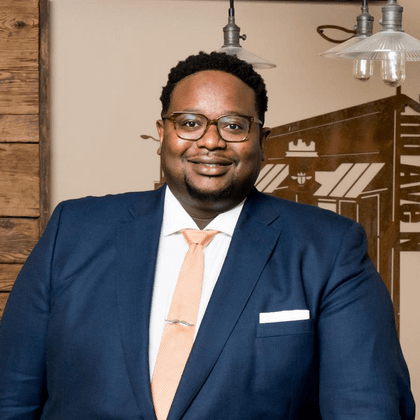 I would recommend B12 to any company that wants a team to manage and grow their website while they focus on growing the business. With B12, founders can be rest assured that their website is in good hands and, more importantly, prove its value and ROI.
Leroy Maxwell Jr.
Founder of Maxwell Tillman / B12 customer Since 2020
Read Leroy Maxwell Jr.'s story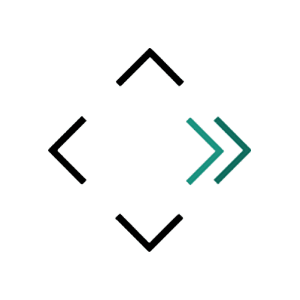 What B12 offers in terms of support service and design knowledge is what we were looking for. We finally have a website we're proud of.
Brett Packard
Head of Operations at TaxStudio / B12 customer Since 2021
Read Brett Packard's story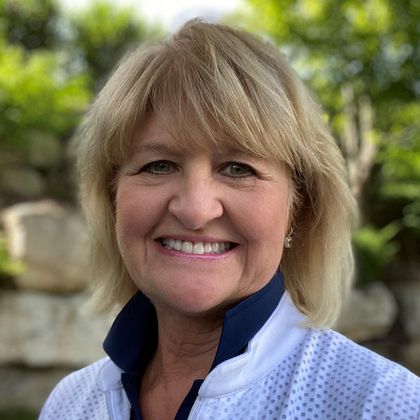 We save a lot in monthly costs by switching to B12. We aren't charged extra for optimization tools anymore. We aren't overcharged for redesigning, because with B12, making changes are part of your normal day.
Barbara Bartelsmeyer
Partner & COO of Action Logistix / B12 customer Since 2020
Read Barbara Bartelsmeyer's story
Enabling educational consultants to provide guidance and achieve growth online
The education consulting market is expected to increase by $579.19 million between 2020-2025, driven primarily by rising demand for customized learning. It's exciting that there's such a need for education consultants, but the increased competition puts pressure on you to make your consulting business stand out.
The best way to differentiate your brand and gain visibility with likely clients is to make your website as professional and powerful as possible. Place your mission statement front and center, and include specific wins you've helped educators, schools, students, and communities achieve.
It's not easy to launch a credible, optimized website. Doing it on your own is time-consuming, expensive, and frustrating. Save yourself the trouble and remain focused on your clients by letting the professional web designers at B12 create one for you. Backed by AI, B12 experts ensure your website looks the way you want it to, makes a great first impression on visitors, and engages your clients for repeat business.
We've helped thousands of service professionals and consultants launch their dream websites and grow their businesses. Start the process for free today and publish your new site in 30 days or less, with all of the functionality you need to attract, win, and retain education consulting clients.
Want to learn more about B12? Check out our reviews on
Frequently asked questions from
education consultants
This depends on a few factors, including what your audience is searching for online, the services you offer, and timely topics that interest educators, students, and district leaders. Perform some keyword research related to your offerings to see what has traction, then try to create content that naturally includes that keyword.
Beyond subject matter, the format of your content matters too. Are your visitors more likely to engage with a blog post, whitepaper, infographic, or video? On average, companies that blog get 55% more website visitors than firms that don't.
Some education topics you may want to create content for include:
Improving early childhood educational opportunities
Increasing student engagement in schools
How educational institutions can seamlessly adopt new technology
Protecting teachers' well-being
Teaching tips from former educators
How can colleges remove bias from the application process
Improving education and investments in under-funded schools
How communities and schools can take a collaborative approach to student success
Google favors websites that are topic experts on the subject matter they're writing about, so whatever topic you're writing about, discuss it through the lens of your expertise.
Once you have a process for regularly creating content, whether you do it yourself or outsource it to a third-party expert, keep track of how it's performing. Take a look at your weekly organic traffic and any fluctuations in keyword position for the terms you're trying to rank for, so you know what's working and if you're successfully increasing your traffic.
The primary goal of your website may align with the primary goal of your consulting business. It can also change over time as your business, clientele, and industry evolve, but here are some of the most popular website objectives:
Gain clients
Improve existing clients' satisfaction
Drive revenue
Establish partnerships with organizations, school districts, and universities
Communicate the benefits of your services
Optimize the flow of your customer journey
Promote and drive signups for your educational programs
Build brand awareness in your community
No matter what your primary goal is, your website can serve more than one function at any time. Nearly every business owner depends on their online presence to make a professional first impression, gain visibility with their audience, and generate leads.
When you sign up to build an online presence with B12, we ask you about your goals upfront so that your web design, content, and SEO all work in tandem to support and achieve them, making it easier for you to scale your consulting business.
We have plenty of consultant website examples and inspiration in the B12 website gallery, as well as other sectors like coaching and personal development. Unlike Wix or WordPress, where you're limited to generic templates, B12 sets you up with an entire team of knowledgeable designers, copywriters, and SEO specialists who will bring your vision to life and make sure your custom website functions exactly how consumers expect it to.
The B12 platform also gives you access to built-in client engagement tools that make it easier to reach, nurture, and serve your customers online, including payments and invoicing, online scheduling, client intake forms, email marketing, and contracts and eSignatures.
As you look through examples of consulting firm websites, consider the individual elements (e.g., color palette or visual hierarchy) you want to emulate and why. For instance, if you're drawn to the font they're using, think critically about its weight, letter spacing, and if it's serif vs. sans serif. If you're not sure what you like about it, you'll want to spend some time playing around with fonts for your site until you find a similar one, or you can ask a web design expert to help you identify the exact or nearly identical font.