Case study
DEI leader builds his own firm after elevating Fortune 100 companies
Jarvis Sam's beautiful B12 website was live and client-ready in only 2.5 weeks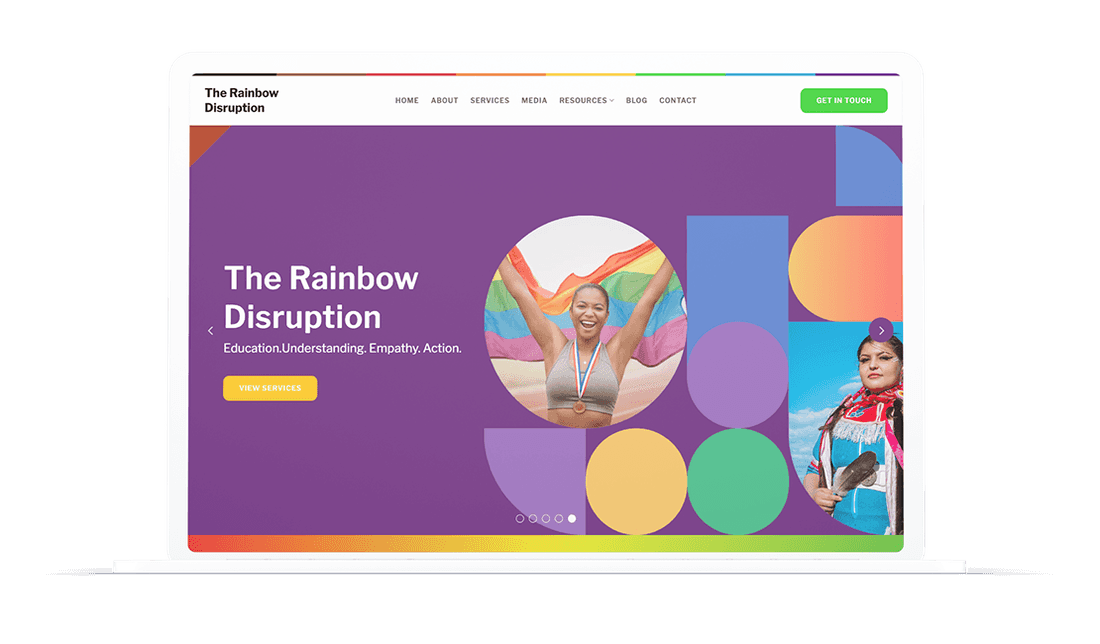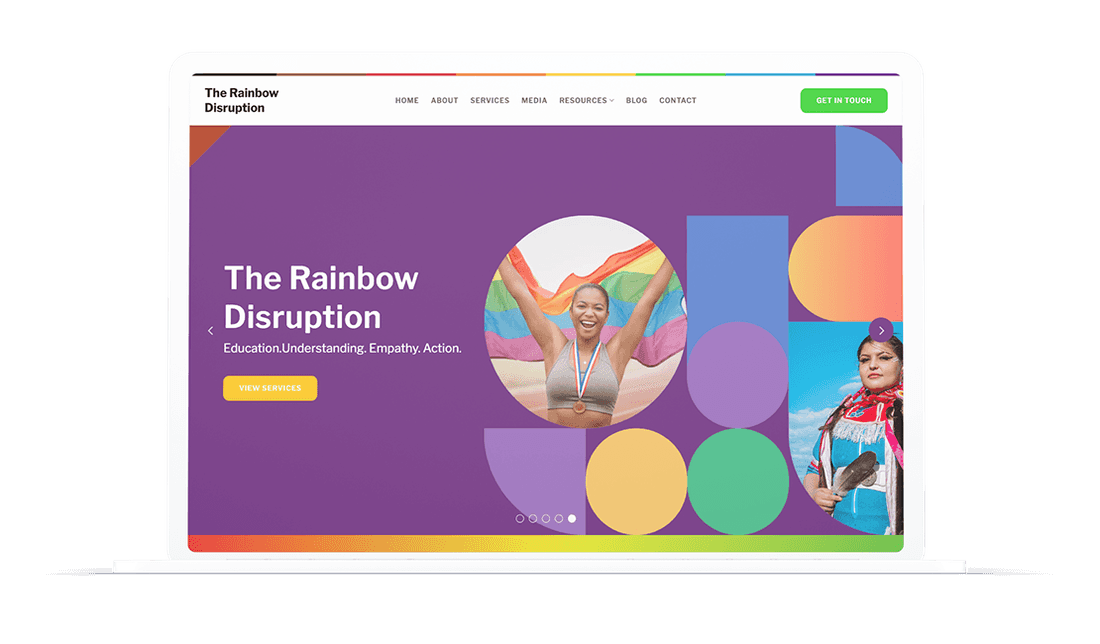 Company size:
1-10 employees
Problem:
Jarvis had clients ready to work with him, and needed a website ASAP that reflected his business's energetic approach to diversity, equity, and inclusion strategy.
Solution:
B12 brought his vision to life in only a couple of weeks, helping him add several new clients the first month it went live.
About The Rainbow Disruption
Jarvis Sam is a diversity, equity, and inclusion (DEI) industry leader with over a decade of experience working with companies like Deloitte, Google, and Snapchat. Most recently, Jarvis served as the Chief Diversity, Equity, and Inclusion Officer at Nike. 
After incredible work, leadership, and making significant progress throughout his five-year tenure at Nike, Jarvis decided to start his own DEI consulting and advisory services firm. He would apply the proven strategies he developed and honed over the years across technology, retail, sports, and other industries, and share them with numerous companies, academic institutions, and nonprofits.
How does one know it's time to leave an established company and start a new solo venture? Jarvis explains, "I pride myself on being a leader who works in strategy, operation, optimization, and development. I want to be part of the transformation and transition, and with any change agenda, there's a point when it's time to watch the work advance and develop."
He started The Rainbow Disruption in the spirit of democratizing DEI principles. This way, Jarvis can work across a number of companies, educating and enabling systemic progress through services like DEI strategy development, inclusive hiring processes, executive coaching, and focus groups.
"Everyone's better served if all companies can benefit from the application of this work. DEI isn't a competition, it's a collaboration and community."
Unlike many leaders of DEI firms, Jarvis actually has the experience of serving as chief DEI officer at a Fortune 100 company. And rather than a one-size-fits-all approach, he customizes all services to the specific needs of each company practically. 
"I first understand their goals, values, and mission, then create points of engagement where diversity, equity, and inclusion is embedded and integrated into all elements of the strategy. I focus on embedding it in every aspect of the company's broader strategic goals and operating model. It's not a one-off program or initiative. It's about building a culture rooted in leadership, culture, employee experience, and innovation."
The challenge
Jarvis had a clear vision for The Rainbow Disruption and was ready to launch the business, including its website. But first, he needed the right provider. As he searched online for website platforms, he ran into two primary issues. 
First, most solutions didn't meet the quality level he had in mind. Jarvis explains, "For some of the organizations I did not choose, I didn't feel their website samples and quality of their work aligned with what I wanted to build."
Second, there was a lack of differentiation across the example sites that platforms shared. "In some cases, the sites all look so similar and don't feel differentiated. They're somewhat stock in design and look less mature."
He considered working with a design agency but was targeting an ambitious launch to introduce The Rainbow Disruption to the world that didn't align with a typical agency timeline. He adds, "When working with design agencies, they often want to put their own specific flair on your project, but that can lead to brand confusion. Your site should be reflective of your specific business."
Jarvis wanted a site that was energetic, motivating, and inspiring — exactly how he approaches DEI strategy services. Just in time, he found B12.
The solution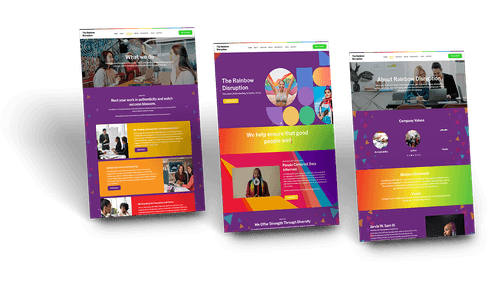 As the DEI coaching industry grows and becomes more competitive, Jarvis needed an online presence that stood out, helped him reach clients, and made information about his services, processes, and differentiating factors readily accessible. With his exceptional experience and knowledge, Jarvis needed a similarly unique and impressive website. 
B12's use of AI sparked his curiosity, and he liked the examples he saw of B12 customer websites. He also appreciated that the platform included additional products he could use over time, including SEO, email marketing, contracts, and eSignatures. Impressed, he scheduled a call to learn more.
"About halfway through the call, I knew this was the company I would be working with. It was super clear to me what my site would look like and I knew what I was getting."
Jarvis explained to B12 that he already had some clients fully ready to engage and wanted to see The Rainbow Disruption site as soon as possible. "I told B12 my needs from a timeline perspective, and they were clear about what was and wasn't realistic and what they could do for me." 
Jarvis worked with his B12 launch specialist, Chelsea, who interpreted his vision into his website, communicated with a designer and copywriter to bring his site to life, and kept everything running smoothly to meet his ambitious timeline. Aware that the topic of DEI may sound hypercomplex or unfamiliar to some visitors, Jarvis wanted The Rainbow Disruption site to feel undeniably exciting and engaging. 
"Chelsea was brilliant! A ton of colors and rainbow can feel childlike, but from the first draft, she and the team were able to strike the right balance. It was incredible what they came up with."
With design underway, the site's custom content was next. Jarvis wanted to offer visitors a robust content hub, which required significant copywriting from B12 on nuanced topics. He shared his content ideas in detail, and B12 created an in-depth glossary of important DEI terms, an inclusive calendar, and recommended list of books and films.
"They took the ideas I had in my mind and helped bring them to life quickly, in exactly the way I wanted to be positioned." In December 2022, after only 2.5 weeks, The Rainbow Disruption website was published and ready to serve clients. Jarvis shared it with his 33,000 LinkedIn followers to spread the word.
Grow your business with less effort
Sign up to receive personalized advice to your inbox on how to look professional online, save time, and sell your services.
The results
Since the launch of his site, Jarvis receives compliments on it nearly daily — how easy it is to read, how clear his service offerings are, and how quickly they can get in touch with him. The positive reception is reflected in his website traffic numbers, inquiries from companies, and growing client list.
"I attribute simplified growth in large part to my partnership with B12 and getting my site up and running in such a timely manner." 
For Jarvis, the biggest benefit of using B12 is client acquisition. Potential clients view the site, immediately see how special The Rainbow Disruption is, learn about its offerings, and can get in touch with Jarvis in very few clicks. Clients rarely have questions about the firm's services because the site effectively sets expectations.
"There are fewer pitch meetings when you have a site like this because [leads] are already clear on what I offer. Instead, meetings focus on the company's needs, strategies, and pricing. It saves a ton of time and helps weed out potential clients who might not be the right fit."
In the site's first month, it generated 15 new clients that Jarvis is actively working with, with many more exciting things to come for The Rainbow Disruption in 2023. Jarvis is excited to continue building his team, focusing on partnership development, and continuing with his keynote speaking, listening sessions, and focus groups.
"The ability to make an impact keeps me motivated. My hope is that clients don't just engage with DEI in the workplace, but that they carry it forward in their personal life. I often hear stories that they shared what they learned with their children, siblings, and partners. That shows that the work thrives."
Jarvis feels his firm has great potential to scale, with a website that clearly communicates his expertise and services and is simple to use on any device.
"I would recommend B12 to any small or mid-sized business looking to build a site because you get significant return. It's really useful and is exactly what I need to support my work. In retrospect, choosing B12 made the biggest difference."
Grow your business online with less effort
In only 2.5 weeks, B12 created a website unique to The Rainbow Disruption, built to nurture and convert the right clients. If, like Jarvis, you need a professional online presence that avoids the pitfalls of frustrating, generic DIY builders and expensive, slow design agencies, schedule a consultation to learn how B12 can help you look credible, engage your audience, and grow your business online.
Read more customer stories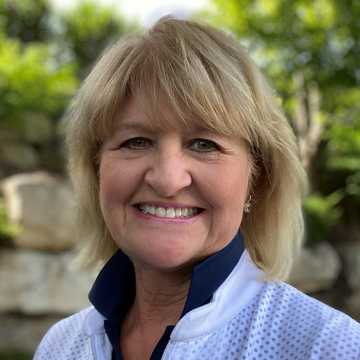 Staffing firm accelerates growth with a website that delivers more efficient client experiences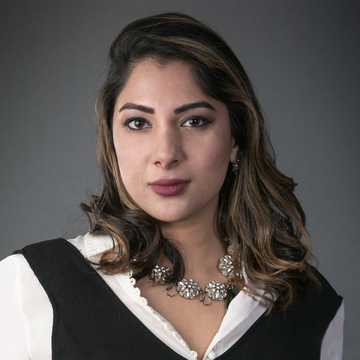 Atlas Law embraces technology and new approaches in its web presence that conventional law firms resist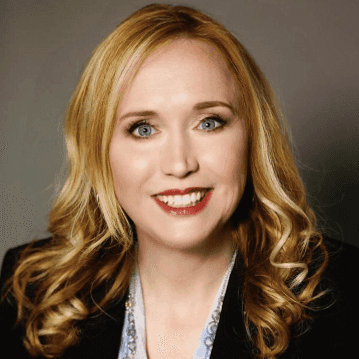 HR consultant finds a collaborative partner to take her website to the next level