What we've learned from building thousands of websites
After building websites for tens of thousands of businesses, the B12 team feels like we know a thing or two about launching customers' websites — and doing it quickly … like, really quickly.
24 August, 2018
·
3 min read
Generally speaking, the main issue with building a site is the expectation that everything will be absolutely perfect on launch day. The pursuit of perfection often leads to burnout, frustration, and a whole lot of money wasted.
Even if you manage to build your perfect website today, eventually it will turn into a snapshot of what it used to be. Like your business, your website should be constantly growing and changing, with functionality and content regularly added or swapped out based on what's performing best.
Now, by combining software and experts, you no longer have to launch your site just once, or maybe once every few years, and hope your customers like it. You can adopt a design process that allows you to constantly iterate and learn. And it doesn't have to cost thousands of dollars.
Here at B12, we're guided by this launch-and-learn philosophy. Rather than waste months on the traditional web design process, which is either costly (agencies) or time-consuming (DIY website builders), we facilitate growth-driven design using artificial intelligence and human experts. Growth-driven design means launching quickly then continuously testing, learning, and improving.
We believe this is the best way to build a website because:
You launch your site much sooner

You start collecting data on its performance immediately

Your website and metrics are in a constant state of growth

You make decisions based on data rather than opinion or emotion
---
How we launch sites in less than a week
Yup, less than one week. I know it sounds crazy compared to the traditional design timeline, but relying on software and AI to automate tedious, repetitive tasks allows us to create websites in a fraction of the time. With design, copywriting, and SEO experts to refine what our AI has built, you don't have to sacrifice quality for a quick launch.
Here's how we run a growth-driven design process:
Tell us about your business and our AI crawls the web, gathering existing content and tailoring a custom website to meet your specific needs. Review the AI-built draft of your site in minutes and send us feedback

We then use your feedback to improve your website over the next 3–7 days. B12's team of experts get to know your goals and deliver your custom website in less than a week

Once your site launches, we pay attention to how it's performing. You're always welcome to let us know the changes you want made. We'll reach out each month with personalized recommendations to improve your website's conversion rate
B12's model uses software to constantly monitor how your website is performing, then moves quickly to fix what's not working. It's all about identifying high-impact actions we can take to improve your business.
After designing thousands of websites, we know that a continuous cycle of improvement is what works best. Start fast, then iterate.
So there you have it — the B12 approach to launching customer websites. Try it for yourself.
We're excited to share more specific lessons we've learned from working with thousands of businesses. Check back as we continue our launch-and-learn series with deep dives into how we help customers feel comfortable launching quickly, the data we look at, and how we optimize websites.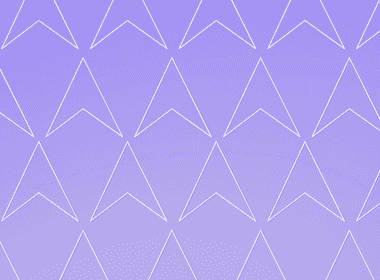 How we iterate on the new things we create
Read now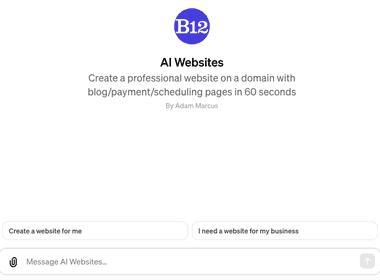 The first AI website GPT on OpenAI only needs two details from you to build a personalized site
Read now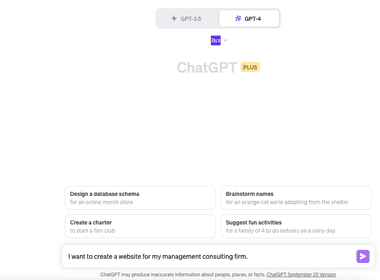 B12's suite of ChatGPT plugins continues to grow, offering you more ways to easily leverage generative AI.
Read now