Making it possible for every professional services firm to succeed online
B12 launches new Client Engagement product and raises $15.7M to accelerate our growth
21 October, 2021
·
4 min read
Professional services firms are rapidly moving online to grow their business and better serve clients. Today, B12 is announcing $15.7M in new funding to help small service businesses get online fast. The funding comes from Tola Capital, General Catalyst, Breyer Capital, and Naval Ravikant, and will support the development of our product and accelerate our growth. As we grow beyond 150,000 companies, we want to share more about how B12 helps small to mid-sized professional services firms build, run and grow their businesses.
Professional services are moving online
As consumers, we're used to doing everything online — shopping, bill paying, appointment booking — but most professional service firms are still doing business the old way and remain offline.
Professional services providers offer their clients knowledge-based services in industries like accounting, financial advising, law, consulting, and insurance. This is a massive industry that is expected to reach $600 billion in 2023 and will see rapid change in the next decade.
Large platforms have emerged that show how professional services will evolve; LegalZoom for legal services, Rocket Mortgage and Better Mortgage for purchasing a mortgage, and Lemonade for getting the right insurance. These platforms serve clients by acquiring them online, streamline operations through automation, and meet clients' expectations by offering a convenient digital experience.
While these large online platforms grow, it's challenging for the average small- to mid-sized firm to keep up. SMBs in professional services industries often lack the tooling, time, and expertise to add digital options for their clients.
We have seen this evolution play out over and over again in other sectors. Amazon grew as a mega-platform in retail and in response, Shopify was born as the go-to platform to bring stores online. Doordash created the need for Toast, and Angi resulted in the rise of ServiceTitan, Jobber, and HouseCall Pro. We think the professional services industry is next.
B12 brings professional services SMBs online in 30 days
In working with thousands of businesses, we realized two things are preventing these businesses from moving online: tooling and time. We built B12 to address both of these hurdles.
The right tools built for service firms
With the launch of our new products, B12 is an all-in-one solution built specifically for service businesses. These firms have a unique way of working, and as their clients embrace working online, they need a unified digital process for collaborating with clients on intake forms, contract signing, and sharing information. B12 helps them build an effective website, interact with their prospects and clients online, get paid, and receive the expert assistance they need to grow online and exceed their clients' expectations.
Everything set up for firms, 15x more efficiently
Even with the right tools, getting online is difficult for professional services firms, who due to constraints in time and budget, have been laggards in adopting new technologies. To eliminate the pain points of going digital, B12 comes with a network of experts powered by our process automation tool, Orchestra, to get businesses fully set up in under 30 days. We do the full setup for our customers and leave them with powerful tools they can use on their own.
Built to help smaller professional services thrive online
Built to help smaller professional services thrive online B12 is the platform that's making it easy for small service firms to digitally transform. We love small businesses and are committed to building tools that ensure every service SMB can keep up in a changing industry, under pressure from large emerging online platforms. With the new funding, we are excited to unveil several new products that complete our all-in-one offering.
Move online
Experienced designers build a professional website that targets a firm's ideal clients and projects. As the firm evolves, so does its website. Our customers can update their website on their own or have a B12 designer do it for them.
Interact with clients
Powerful tools seamlessly integrated into each B12 website work together to let clients easily get in touch, schedule appointments, fill out intake forms, and sign contracts in one place. Every step of the journey runs smoothly.
Get paid
We make it easy for customers to send professional, branded invoices and get paid faster. Automatic payment reminders are sent to clients, increasing on-time payments. It's convenient for a firm's clientele too — they can pay directly on the website via credit card, debit card, or ACH.
Receive help any time
B12 customers can work with our in-house designers, copywriters, and SEO specialists when they need support updating their website, publishing new content, using Client Engagement tools, or optimizing their online business for search engines.
The future of professional services looks bright ✨
As professional services industries continue to digitize, it's crucial that smaller firms don't fall behind. Finding a digital solution that enables them to work with clients and charge for services will help future-proof their firm and compete with larger companies. B12 takes the stress out of being online and we believe with the right tools and support, every business, regardless of size or sophistication, can succeed online.
Tell us about your business, the services you offer, and we'll ensure you're selling your services online in 30 days. Learn more about the details of our product and check out our recent launch on Product Hunt.
If you are interested in trying out B12 you can sign up here.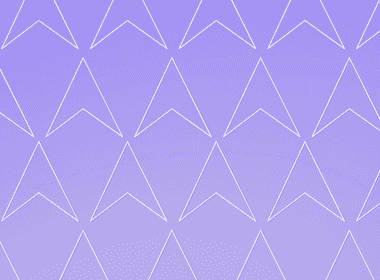 How we iterate on the new things we create
Read now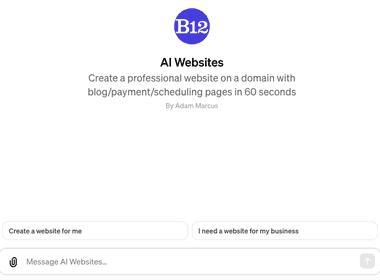 The first AI website GPT on OpenAI only needs two details from you to build a personalized site
Read now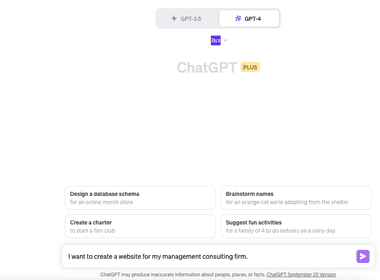 B12's suite of ChatGPT plugins continues to grow, offering you more ways to easily leverage generative AI.
Read now