B12 product update: What we've recently shipped
The B12 team is constantly updating our website editor to make our customers' experience and website the best they can be. Check out some of our latest improvements and keep an eye out for more to come!
8 December, 2018
·
3 min read
Section customizations
The new B12 website editor is the best of both worlds: powerful enough for web experts to create bespoke website designs, while simple enough for customers to edit various parts of their website in just one click.
Your products and services are the crux of your business and deserve to displayed exactly right.
That's why we've made it easier to customize website sections! You can apply different classes and styles to entire sections instead of adding them manually.
It's simple to do more within sections like Products, Services, and similar collections, such as:
Change alignment

Reformat images

Stylize icons

Add borders

Change background image formatting

Manipulate button width and size

Adjust the number of columns in a grid
For example, you will see a drop-down under "Images" for changing the image size and shape. Similarly, for grid sections, you can change the number of columns by selecting an option from the "Columns" drop-down under the "Grid & Dimensions" subsection.
We've also added the option to hide parts of collections, so visitors can click a call-to-action button, like "Learn More" to see the hidden items in a collection.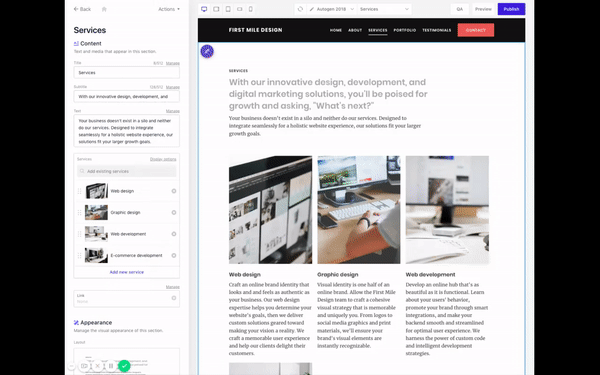 ---
Expanded media library
We know that images and icons play a significant role in telling your story and organizing your website's content, which is why we've added new options for both to our media library.
B12 has integrated with Unsplash to give you access to a varied selection of beautiful, free photos that you can use on your website. These aren't your average stock photos.
Browse new high-quality images within the "Search" tab in the website editor, which you'll find at the top of the media selector in the section editing pane.
B12 customers also now have the option to search for and add icons, located in our new "Search" tab. Find icons by selecting the "Icons" option in the drop-down, search for relevant keywords, then specify the color you want your icons to be within the "Color" option located in the top right of the icon search. By default, you will see the colors from the theme's color palette at the bottom of the media selector.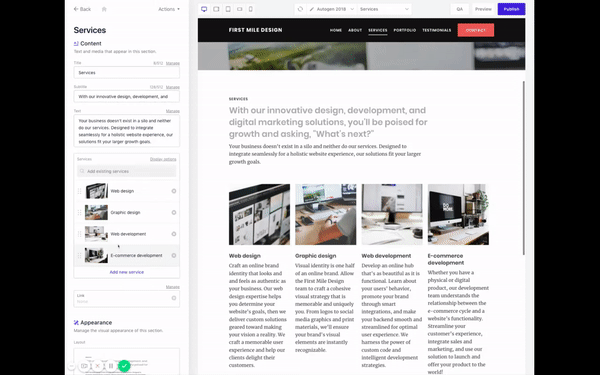 ---
Custom forms
B12 websites are built for conversion and now we've made it easier to get better leads directly on your site.
You can now customize forms directly in the B12 website editor, which means no more hard coding form changes in the HTML. We've made it simple to customize contact and signup forms to get the information you need from prospective customers.
---
Improved text editor
Simple and rich text can now be customized directly in the text editor. This means that you can edit the text style and colors of components like section titles, subtitles, paragraphs, and more. It even works for text logos!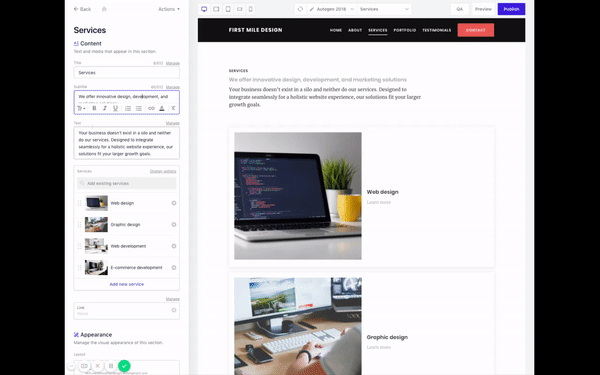 ---
New section layouts
You now have more options when choosing the way your website's sections appear. Here are just a few of the new section layouts available: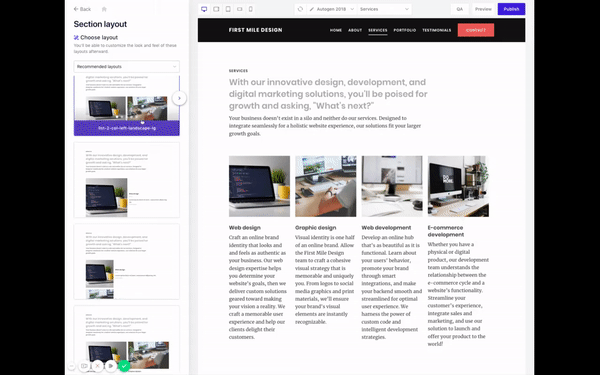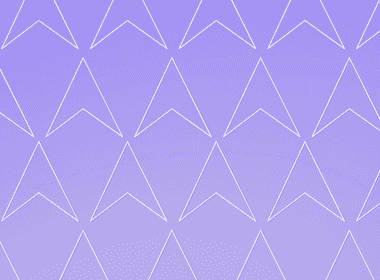 How we iterate on the new things we create
Read now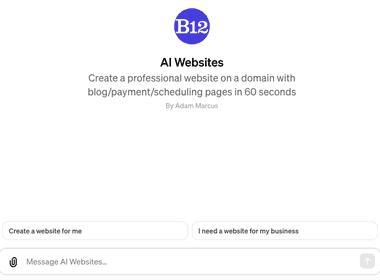 The first AI website GPT on OpenAI only needs two details from you to build a personalized site
Read now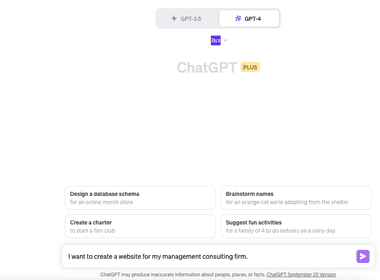 B12's suite of ChatGPT plugins continues to grow, offering you more ways to easily leverage generative AI.
Read now